Girls varsity volleyball falls to Culver City
Isaiah Freedman staff writer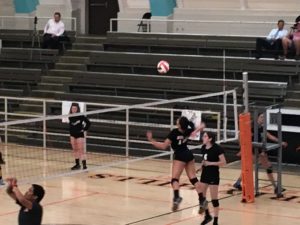 Girls varsity volleyball lost 16-25, 10-25 and 10-25 to Culver City on Tuesday, Nov. 3. In addition, it was senior night for those seniors on the team.
Senior captain HaRim Lee is proud of her fellow teammates for their perseverance against Culver.
"It was a great effort by all the teammates and an emotional day for all of us, and I could not be prouder of my team," Lee said.
Junior Maytal Sarafian feels bad that the rest of the team could not come up with a victory for their seniors.
"The toughest part was giving our seniors a bad result in their last game. We really wanted to give them a game to remember, but by the middle of the game, we just were not performing our best," Sarafian said.
While the seniors won't be joining them next season, Sarafian sees room for improvement.
"Next year, we could be more talkative on the court, letting each other know where we are," Sarafian said.