"Chicago Med" delivers reliable, dramatic medical drama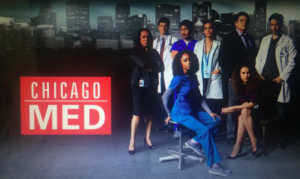 Juliette Deutsch, co-editor-in-chief
"Chicago Med", the newest addition to Dick Wolf's Chicago based shows ("Chicago Fire" and "Chicago P.D.") premiered Nov.17 on NBC. If you expected the third series that Wolf has set in the windy city to be any different from its predecessors, think again.
"Chicago Med" is exactly what you expect it to be. With a ripped-from-the-headlines format Wolf consistently perfects on "Law and Order: Special Victims Unit (SVU)", the medical drama is already set up for the classic crossover episode between "SVU", Chicago P.D. and Chicago Fire.
Although the grounds for the show were predictable for a fan of all the Chicago shows and "SVU", the story lines and characters were still excellent.
The premiere starts out fast and rarely slows down. At the very moment that a ribbon-cutting is taking place for a new emergency department at "Chicago Med" hospital, a train derailment causes a crisis in the city and people are left in critical condition. One of the train's passengers is Dr. Connor Rhodes (Colin Donnell), a young man who hasn't even begun his new job as trauma doctor at "Chicago Med" yet; he comes in the midst of injured patients and chaos, introducing himself to his new colleagues as he's making snap-judgment medical decisions. Only 20 minutes into the show, we already see some familiar faces from "Chicago P.D." including Detective Erin Lindsay (Sophia Bush) and Sergeant Hank Voight (Jason Beghe).
You know what follows: each patient has a story; some live, some don't. Each doctor and nurse also has a story, which will be revealed a little at a time: Dr. Natalie Manning (Torrey DeVitto), pregnant and single; Dr. Will Halstead (Nick Gehlfuss), brother of detective Jay Halstead (Jesse Lee Soffer) on "Chicago P.D."
The show, although extremely similar to "Chicago Fire" and "Chicago P.D.", is worth watching if you crave Wolf's dramatic storylines and unique character development. In traditional Dick Wolf fashion, expect a reliable, well executed medical drama from "Chicago Med". If we're lucky, maybe we will see Olivia Benson (Mariska Hargitay) and the rest of the Manhattan SVU squad helping the doctors of "Chicago Med" solve cases very soon.