Performing Arts Department Present "Spamalot"
Evan Minniti, staff writer

The drama and music classes will be performing the Medieval-themed comedy "Spamalot", a surreal parody of Arthurian Mythology, this Friday, March 4 in the Salter Theatre. The play itself was adapted from the 1975 cult classic "Monty Python and the Holy Grail" by former Python member Eric Idle (who actually appears in the movie himself).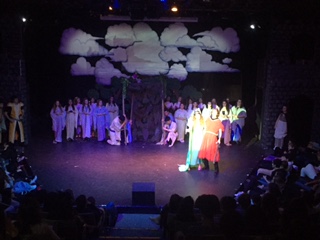 Performers from all of the facets of the Performing Arts Department will put on the musical, which follows King Arthur and his coconut wielding squire Patsy as they recruit knights around feudal England to find the Holy Grail.
"Spamalot is one of the funniest musicals I have ever seen. It's based on Monty Python's Holy Grail which is a great movie, maybe one of my favorites," sophomore and Drama Lab member Lilla Sabbah said. "I've had a lot of fun being in it…There is a lot of humor, which makes the whole thing really fun to watch. Although some of the comedic aspects are a little out there, the central message of the play is fun for all ages and will bring a smile to any viewers face."
Sabbah went into detail about some of the challenges she and her classmates faced when getting ready for the show.
"The time commitment is one of the biggest challenges. The first few weeks we have to be here from 4:00-6:00 but for tech week we have to be here from 5:00-9:00. [Even] though the musical is time consuming, it's all worth it. The music is really great, it's the main component of the musical and it really brings life to [Spamalot]," Sabbah explained.
One of Sabbah's fellow actors, sophomore Chloe Rebibo, was unfamiliar with Spamalot.
Rebibo said, "I had no idea what 'Spamalot' was or what it was about. Being in the show helped me put the story together and I found it really funny and clever. I think 'Spamalot' is more a parody of 'Camelot' and I really enjoy the idea of it."
Rebibo appreciated the play only after rehearsing the scenes a few times.
"The comedy was hard to understand at first, but after I hear the jokes a few times I finally understood them and found them funny. I personally enjoy this type of comedy and the satire that they use," Rebibo said.
"Spamalot" premiers this Friday, and will continue playing this Saturday, the 10, 11 and 12, all at 7:00 p.m.