Guy Ginsberg co editor in chief
Eighteen track and field athletes were selected to compete in the UCLA Legends Track Invitational at UCLA on Friday, April 1.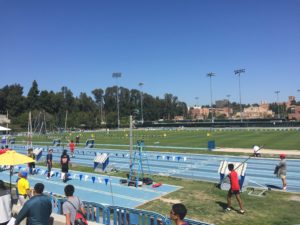 Amanda Block, Brandon Kim, Jonathan Cohen, Jason Cohen, Shimon Dubner, Yael Balakhane, Mohammed Abikenari, Raehaan Poonja, Noah Lee, Raustin Soltani, Stephanie Ancker, Zoe Hinton, Stanley Wu, Victoria Hanpham, Jordan Getty, Danna Rosman, Julianne Araullo and Sarah Smith were the Beverly athletes who competed.
Notable victories were made by Jason Cohen in the 3200 meter race, winning first place, Poonja in the 100 meter race, winning fourth, Kim in the long jump, winning fifth, and the girls frosh-soph 4×400 meter relay team, composed of Rosman, Araullo, Hinton and Smith, winning first.
Pole vaulter Amanda Block, who got third place clearing 11'8", felt at home at the prestigious university.
"I always train at UCLA so it was nice having a home court advantage," Block said.
The competition, which was among various high schools, featured some of the most talented high school track and field athletes in the state. Separate competitions were also held for college athletes at the same invitational.
The full list of competitors and their outcomes can be found here.

Story continues below advertisement