Senior takes success octave higher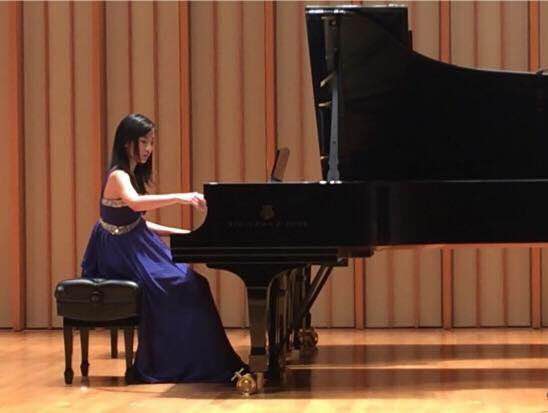 Natasha Dardashti social media editor
In the fourth grade, most children spend their time eating ice cream and coloring, but to senior Julia Choi, the fourth grade signified the beginning of a major aspect in her life: piano.
When she was only a sophomore, Choi competed in the highest division of piano sonata held by the Southwestern Youth Music Festival. She performed Beethoven's "Moonlight Sonata," and placed first.
"I chose this piece because it is a beautiful piece of work that has contrasting styles throughout the piece in the first, second, and third movements," senior Choi said.
More recently, Choi was chosen to perform at the Beverly Hills Rotary Club and Beverly Hills Hotel.
"The contestants get a monetary award and we get to join the Rotary Club members in a luncheon," Choi said.



Choi performing Frederick Chopin's Ballade No. 1 in G minor, Op. 23 at the Steinway Piano Gallery.
But Choi is quick to mention that achievements do not come without preparation and practice. With Choi's mother, a professional pianist, as her primary instructor, there were hardly any days without training.
"[Having my mother as a coach] is like having a private coach 24/7, but also it creates a lot of disagreements," Choi said. "My mom got very strict regarding not only my performance and practice, but also my lifestyle. For example, I would have to come straight home from school to practice every day and I wasn't allowed to hang out with friends freely."
As she grew older and her mother began to become more strict, Choi began to feel an inner confliction. But throughout everything, Choi and her mother were finally able to reach an agreement.
"During my earlier high school life, I was extremely torn between my own desires and my mom's demands. But I think that all of my conflicts with her actually created a stronger bond between us, and now we understand each other so much better through music," Choi said. "I feel lucky because I share something special with my mom that nobody else in my family does."
Besides her time spent on competitions and practicing, Choi does volunteer work. She has recently started her own non-profit organization named Cantabile Music Club. Though plans for her new project have not yet been solidified, Choi has many aspirations for Cantabile.
"I intend…to raise donations for charity by performing publicly and [hope to] spread classical music to many different communities," Choi said. "Also, I hope to teach [children] who do not have as many advantages as others how to play instruments."
Along with Cantabile, Choi also accompanies the Beverly Hills District Choir for elementary school students, an activity she has been participating in for six years, along with performing for Greystone Mansion events.
"I hope to continue my activities in piano and music composition in the future and use my abilities to bring positive changes in the society," Choi said.