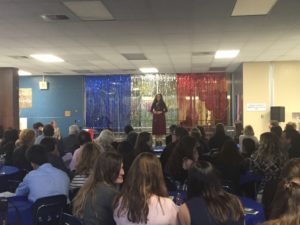 Eleanor Bogart-Stuart staff writer
Hours after the bell rang last Thursday, red, white and blue flags, tablecloths and banners were spread around the cafeteria at school. But these colors weren't there in celebration of America; they were, instead, celebrating France.
Cabaret night is an annual celebration of French culture coordinated by Foreign Language Department Chair Madame Corinne Carlson. It features a variety show comprised of dances, music and monologues, all performed by students enrolled in French.
"Cabaret is a great opportunity. Talking is such a forgotten art form, but it's actually really important," freshman Juliette Collet said.
To Carlson, the Cabaret is not only an opportunity to practice speaking skills, but also a chance to learn more about French culture.
"It is just great to have a fun kind of thing with the kids where they can actually use what they are learning," Carlson said. "I think it is really important for students to make those kinds of connections and to see the role of French in the world at large and the richness of its culture in the past as well."
By performing at the Cabaret, the students learned more than just the lines for their monologues. They gained a brand new perspective on their class and the French lifestyle.
"I think that Cabaret night really enriches our experience of the French culture. We are immersed in French music, dances and food. We're really able to appreciate the class we take," junior Cissy Amato said.
Cabaret has been taking place for the past 15 to 20 years. Students from any level of French, from French 1-2 to AP, are encouraged to participate. Not only do the students perform, but they also set up and take down all the decorations.
"We transform [the cafeteria] magically into something that kind of looks like a French Cabaret. We have a stage and microphones and all that, and basically it is a celebration of France," Carlson said.
Throughout the show, awards were given to exemplary French students who have excelled in their studies throughout the year. Besides the performances and awards, a silent auction featuring various French-related treats and goodies was held. Urth Caffe provided French themed food and drink for the hungry guests.
"That's what I love about the French department and this event. You get to immerse yourself in a culture and really understand it," junior Veronica Karlin said.
Story continues below advertisement