Veronica Pahomova staff writer

Front and center, freshmen Tiffany Chieu and Julie Park sit side by side in the Symphonic Band. With Park's rapid fingers moving from key to key alongside Chieu's fluid movements, these two friends have surpassed their colleagues and earned spots in this elite group of musicians. Chieu and Park are the youngest members of the ensemble, inevitably leading them to be surrounded by older musicians, but in no way do they fall short in talent.
It all started at the end of eighth grade when Music Director Bill Bradbury picked up his daughter from Beverly Vista. With their middle school band director as a liaison, Chieu and Park received an opportunity to try out for the band, requiring them to learn several scales, prepare a piece and sight read. After successfully auditioning for their spots, this dynamic duo has managed to defy the natural order of Symphonic Band musicianship and claimed their fame at an early age, even earning solos in performed pieces.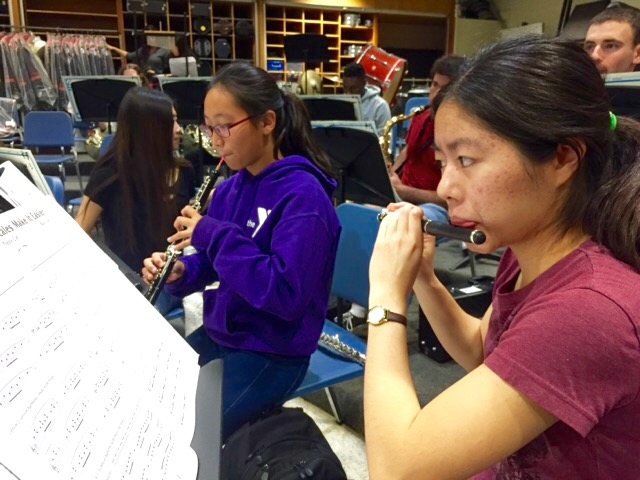 "Definitely, as I listened to them, it was amazing to hear their musicianship, their tone and their ability," Bradbury said. "They are advance musicians and really deserve to be in this ensemble."
From the get go, Bradbury has, in Park's words, treated them both like talented musicians, not letting their age hinder his opinions. Bradbury gave both freshmen equal opportunities and, according to Chieu, assisted in their learning and development greatly.
Chieu has been playing the flute for about four years and started playing the piccolo this year, an instrument she claims is much higher in sound and harder in difficulty than her original choice. She first picked up the treasured piece of silver after idolizing her older sister; and with this encouragement, Chieu began one of her favorite hobbies.
Park was introduced to the oboe around five years ago in her elementary school in Boston, Massachusetts. Though she did not have an elder to take her under his musical wing, Park has a brother who told her to basically play anything but the saxophone. That being said, Park has stuck to her instrument for about a third of her lifetime and continues to harbor affection for it not only in Beverly, but also at the Colburn School, a performing arts school she commutes to every Monday.
The shift from a middle school band to an elite high school band was fairly large for Park and Chieu, both sharing that they felt comfort and security being the "top of the class" in eighth grade. But once one steps foot in the high school world, Chieu informed that "you're the lowest of the low."


However, after gradually easing into the new melodic atmosphere, Park has stated that it is an honor being able to join such a high level band.
"It's humbling because you're with all of the upper classmen. Yet also, it [boosts your ego] because you're a freshman and all of your freshmen peers are like 'Wow, you're in symphonic!'" Chieu said.
Their freshmen peers are not the only ones who notice the pairs' achievements. Their parents are said to "never stop talking about it!"
"My parents like to…I don't know," Park said with a modest giggle. "They just talk about it a lot. Like, if I go to an all-state or an all-southern [competition] that's all they will talk about for the whole year. Yeah, they're really proud."
Overall, Bradbury finds them irreplaceable as musicians and acknowledges Park's talents as well as Chieu's.
"Oh, I think they'll be very strong members…I know Julie has been involved with an honor band in southern California, so even others recognize her ability. And Tiffany, in her right, has done an outstanding job," Bradbury said. "I look for forward to having them for the next three years."

Story continues below advertisement