NBA players train in unlikely spot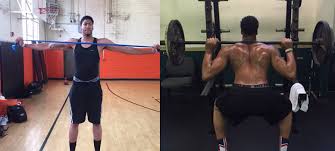 Isaiah Freedman Sports Editor
As kids filed out of school for summer, NBA players came flowing in, playing on courts that brought them back to their roots.
NBA players are the cream of the crop in their profession. They parlay their incredible athletic abilities on a wooden court into multi-million dollar contracts. Though one may assume these professional athletes take advantage of private training facilities scattered throughout the Los Angeles area, a select number of players prefer to hone their respective talents on campus, in the Upper East and West gyms.
The list of established NBA talents who have shuffled into the upper gyms grows longer and longer. Star players such as Anthony Davis, Dwyane Wade, DeMar DeRozan, Andrew Wiggins, Jordan Clarkson, Chris Bosh and Jonas Valinciunas can all claim to have had a physical training session in one of the upper gyms. All these guys have also come back for more that one workout.
Located in the creamy-white Konheim Athletic Building on the south end of the campus, the glossy surfaces of these truly multi-purpose gyms are constantly speckled with students over the course of the school year. In addition to providing recreational space for daily physical education classes, the courts also host the boys and girls basketball teams during the winter session, the boys and girls volleyball teams during spring and fall sessions and the city's youth league Beverly Hills Basketball League (BHBL) on winter and spring weekends.
During summer, however, students are on vacation and BHBL is out of season, leaving the upper gyms relatively unoccupied. NBA players fill that emptiness, swarming in to break a good sweat.
Players start filtering quietly into the upper gyms from anytime between late morning to the mid-day. Warm sunlight streams through open windows as their hulking physiques softly shuffle to a bench. Once they begin training however, the gyms are anything but quiet, as the unmistakable sounds of sneakers forcefully squeaking and basketballs pounding the ground like gongs reverberate throughout the space.
NBA players have the affluence to stay at nearby luxury hotels such as the Peninsula, Beverly Wilshire and Beverly Hilton, and this school is situated in the heart of the city. So why do so many players come here of all places?
"We are welcomed here with open arms from our contact that gets us the gym. This place is also conveniently located in Los Angeles for me, since I stay really close to here. I just love the atmosphere. I was watching some kids [playing basketball] and they make this place feel like home for us too," veteran NBA forward for the New Orleans Pelicans, Quincy Pondexter said, soaked with sweat after a tough workout.
Pondexter, who watches his cousin play Monday night hoops on an adult league team in the upper gyms, appreciates what the court has to offer. While the scratched surface may not be perfect, it humbles him.
"The court is not that bad, but it brings us all back to our roots. I grew up playing on a court like that and I love every bit of it. Really, really cool gym," Pondexter said.
"[The courts] bring us back to our roots" – Pelicans forward Quincy Pondexter.
Pondexter's "contact" (and that of every other player who comes here) is none other than varsity basketball coach Jarvis Turner, who claims his years working in the basketball business have allowed him to build trust with agents and players.
"[When arranging workout dates and times], I mostly talk to their agents. I have a lot of relationships in this business since I used to work in the [basketball] business a little bit. Being around basketball so long, you form a lot of relationships with players and agents," Turner said.
Turner echoes Pondexter's thoughts that playing in a old-school, low ceiling gym humbles players, reminding them of the not-so-pristine courts they used to play on before they became famous.
"What's funny is every player who comes here for the first time says they really enjoy the old gymnasium style of feel. I take them down to the Swim Gym and players like that as well. The courts have a good aesthetic feel for these guys; it gets hot in here and they get in a good sweat. I think they love coming here," Turner said.
The star players named above indicate that players notice these upper gyms, and they truly enjoy working out in the gym's laid back atmosphere.
Senior Nathan Matthews, who frequently worked out in the upper Gyms over the summer, likes the idea that players come here of all places to play basketball.
"Seeing these basketball stars come and play here is such a cool feeling. It's like they are one of us kids, just trying to get in a good sweat and have some fun," Matthews said.
Now, school is in session again, and the NBA players have moved on; their pre-season is almost starting up. The athletic specimens have been replaced by normal kids again. But the gyms remain the same, always there to be used, always ready.
"Just a great, old-school gym," Turner said.