Orchestra and Band perform at California Adventure
Veronica Pahomova co-editor-in-chief
The Chamber Orchestra and Symphonic Band took to the streets of Disney's California Adventure on Wednesday, Nov. 16 to perform as guests in one of the theme park's concert halls. With their last performance being two years ago, this group of selected performers felt both honored and exhilarated for their performance and time at the park.
"High schools from all over the country come to perform at Disneyland because of its special guest talent performance events. For the BHHS Band [and orchestra], this is both an honor and an exciting opportunity," band and orchestra director Bill Bradbury stated in his itinerary email.
Entering California Adventure at 10 a.m., the students had about two hours to enjoy the rides until their call time at the Monster's Inc. attraction where they were counted and given a rundown of the expected events to come.
"I love going on these kinds of trips! Although it can be difficult to make up the school work, spending time with your friends doing what you love (playing music) and then spending the day at an amusement park is pretty great," trumpet player Nikki Melamed stated.
As the clock struck 12 p.m., the full orchestra filled the Hollywood Backlot Stage with about 30 minutes of a joyous Disney repertoire such as "Sleeping Beauty," the "Little Mermaid" and "Wish Upon A Star."
What many onlookers were not aware of, however, was the dedication and practice that went into each musical piece–especially by the selected band musicians. As viola player Yasi Pedram informed, the band members were responsible for not only attending the many after school and lunch rehearsals, but were also responsible for practicing during their own time in preparation for this performance since, unlike orchestra, they did not have time to rehearse in their class periods.
"This definitely helps my musicianship in terms of dedication and focus," Melamed said. "We had to learn six or seven songs in a very short amount of time, which required an insane amount of practice and focus, both at rehearsal and at home."
After a few more hours of rides and attractions, their day at the amusement park concluded at  6:30 p.m. However, from their first steps into the park, to their last performed note, all the way to the packed instruments on the bus, many of the members sensed the honor that was bestowed on their music group.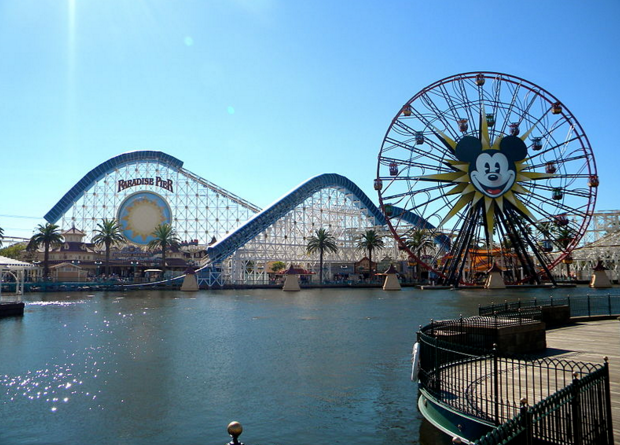 "It is a fantastic honor to be recognized by Disneyland. It makes us feel, as an orchestra, that our hard work is paying off and other people, like the prestigious musicians of Disneyland, can see that," Melamed said.
And though the Beverly Hills Marching Band was given a similar honor just last week on Nov. 9, their march throughout Disneyland was one repeated tune, UCLA's "Strike Up the Band," solely performed by band members. Yesterday's combined performance, however, seemed to resonate a different pitch in both the auditorium and the hearts of performers.
"I love performing with the band because they have that certain sound that strings don't have," Pedram said. "The instruments have a different tone than string instruments so when you combine the band and orchestra together, you get this really amazing sound."
Pedram further stated that this opportunity to perform in a "sophisticated setting" encouraged the dedicated and selected musicians to work hard and give the crowd a show, accomplishing what the violaist stated as a "dream come true for many musicians," and a memory she would personally not forget.
"The fact that they accepted us and are welcoming our school is amazing. I love going on these trips with orchestra because it is such a wonderful way to bond with other fellow members," Pedram said. "Every trip I've had…is a memorable one and they really contributed to my overall high school experience."