Soccer program, Tower Cancer Research Fund come together
Rinesa Kabashi photo editor
The Tower Cancer Research Foundation was founded by the Tower Hematology Oncology Medical Group to conduct clinical trials and have helped in the approval of 15 cancer drugs.  
"Having a cancer fundraiser made this game extra meaningful. Knowing that this game symbolizes our team doing something to help the cancer community was so moving because of the many people I know affected by cancer," co-captain Camilla Wolff said.
Despite the team's loss, 0-2 against Windward High School their spirits were still high due to the amount of support that they had from all the people that attended, for not only them but the fundraiser as well.
"The game meant more than just a regular soccer game because win or lose, we knew that something good was coming out of it," defense player Michelle Heravi said.
For Wolff, she had a personal connection to the cause due to her father having cancer.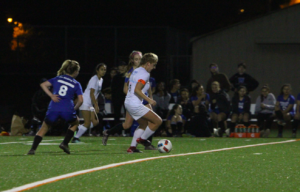 "After watching my father battle cancer for over nine years and watching multiple other family members fight this fight, this game was extremely meaningful to me," Wolff said. "I wanted to play that much better to honor the challenges they face(d) every day."
Co-captain Dani Elitzur was also glad that the team was raising money and awareness for something that was important to her.
"Cancer has had such a large impact on my life, so it was inspiring to see a community really come together to give their support to cause that is so meaningful to me," Elitzur said.   
The fundraiser exceeded their fundraising goal and Elitzur was proud to see how her team were able to help to make a difference.
"It feels really good knowing that so many people wanted to make donations to support our fundraiser and it's inspiring to see how much of a difference we can make by coming together to support something we all really care about."