Boys varsity basketball defeats Culver, celebrates Senior Night, coach's birthday
Catherine Gagulashvili staff writer
Following their previous game against Culver City High School, where they lost by two points, the boys varsity basketball team was able to beat Culver 56-53 in their final league game of the season on Thursday, Feb. 8, qualifying them for CIF.
"Coach Jarvis set out a great game plan for us to get this win tonight. We came out and we were hungry for the win; we lost last time by a nailbiter," starting shooting guard Benjamin Ramirez said.
The players are hoping to win CIF, and eventually go to state playoffs.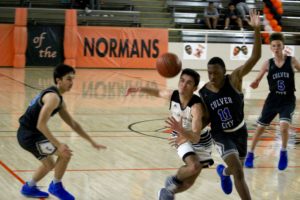 "I feel like our guys competed and we needed this win to go to CIF. It was a great win," starting point guard Daniel Zahabian said.
Senior Night was celebrated before the game, and coach Jarvis Turner commented on how much he will miss the seniors.
"I am going to miss this group of seniors. This group of seniors is extremely special to me, I've known most of them since they were in the 7th grade. It's kind of like a gift and a curse: you get the opportunity to see them grow as young men, make their way to their colleges and go their different directions in life, but it's also kind of a little bit sad to see them go. It's a little bittersweet," Turner said. "I think for the most part, those kids had a good career here, they had a great experience, and they developed a bond that hopefully they'll be able to share forever. I'm definitely going to miss these guys a lot."


In addition to being Senior Night, the team celebrated Turner's birthday, which is on Sunday, Feb.11. Turner's birthday, Senior Night and the fact that it was the last league game of the season motivated the team during the game.
"It was definitely the best game of the year, I think, for senior night, for our coach's birthday, a lot of emotions [went] into the game. Everyone's really happy," starting wing Nick Andrews said.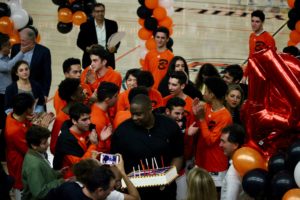 Last night's game was Turner's proudest moment for his team. The Normans were up for the entire game, except for the last couple minutes of the fourth quarter.
"They played hard, they played together, they played as a team. I knew that we would have another opportunity to score the basketball and the way the game was going, we'd make the shot," Turner said about the final moments of the game. "Luckily we got a foul call and Daniel Zahabian stepped up to the line and made free throws. I'm really proud of these guys. I was happy for them–they really wanted to win."