Student disciplined after Snapchat controversy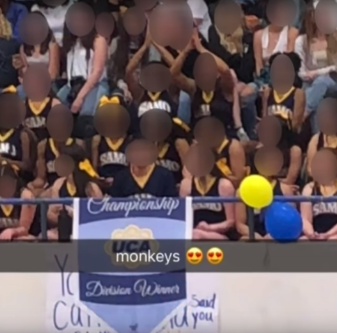 Sam Bernstein staff writer
Jude Binkley staff writer
A Beverly cheerleader has recently been accused of sending a derogatory Snapchat of Santa Monica High School's cheerleaders at Friday night's varsity boys basketball game at Santa Monica. The Snapchat post is a photo of their cheerleaders with a caption reading "monkeys ????????."
The term "monkey" has been in the media recently after H&M, a department store chain, released a controversial advertisement of an African American boy wearing a sweatshirt that read, "Coolest monkey in the jungle."
The Snapchat post got attention after being featured on the local news. The broadcast, which was run on CBS channel two, touched on the general outrage over the post on the Santa Monica campus.
"[I felt] shocked and extremely angry. We already have a rough relationship [with Beverly] and I don't think we needed that. That only worsens our relationship," Santa Monica High School junior Andrew Liu said.
The past few years of Beverly-Santa Monica relations have been tumultuous as students have gotten into numerous heated encounters, including fist fights as well as a car-keying incident that happened three years ago. The rivalry between the two schools, which began as a basketball rivalry, has trickled down into a rivalry in every sport. One of the more heated athletics rivalries between the two schools is the cheerleading rivalry, which has been under fire recently after the said Snapchat post was sent. An anonymous Beverly cheerleader commented on the potential implications of the Snapchat post.
"There's been bad blood between the two schools in general and I think this definitely made it worse. It's been two years since the last incident between SAMO and Beverly and I think that hasn't died down, so this incident won't die down for a couple of years," the anonymous cheerleader said.
Students from both schools have seen the action from afar and are becoming tired of it, seeing this action as fuel to the fire of an already heated rivalry. One of these students is Santa Monica freshman wrestler Gabe Sotell.
"I think we need to respect that it's a sport and we're here to have fun and do your best. You're not there to put other people down," Sotell said.
Another student who disapproved of the Snapchat was senior Gabe Arye.
"I think this ruins Beverly's credibility. Obviously we're a very well known school district and most people's stereotypes and views are that we are a bunch of privileged teenagers. I think that this boosts this stereotype and makes us look worse," Arye said.
BHUSD has responded to the allegations, releasing a statement last week.
"Beverly Hills High school has zero tolerance for derogatory speech, offensive social behavior or racial comments. There are significant consequences and disciplinary measures for students who exhibit inappropriate behavior of this nature," the statement read.
ASB has also responded to this incident and the group is planning on releasing a statement on behalf of the student body soon. "We had a big discussion in ASB about this and how this will affect our school. I honestly think it made our school and our district look pretty bad,"  ASB Commissioner of publicity and social media Estella Rosen said. "I think we are planning on releasing some sort of statement on behalf of the school. I know that our school board released a statement but it wasn't the thing that ASB, in our personal opinions, believed that really did the task of apologizing for what happened. We are definitely going to take more measures to promote a positive internet presence."
Rosen elaborated on the positive influence that competitive athletics can have on the relationship between schools.
"I think the continued games between the schools are really important," Rosen said. "I think that if we can just be cordial to each other and have good competition, it could definitely help."
Disciplinary action was taken against the student who allegedly posted the Snapchat, however, administration is not at liberty to comment on specific disciplinary action.