From Russia to San Diego, hockey star to take talents to Harvard
Sophia Goldberg sports editor
From skating around the Toyota Sports Center rink with her brother at four years old, to winning back-to-back gold medals at the Junior World Championships, senior Dominique Petrie fell in love with the game of hockey and has had the opportunity to play the sport on various teams throughout her 13-year career.
First playing with the Anaheim Junior Ducks, then completing her final season with the San Diego Junior Gulls, Petrie has had to deal with adversity from several different opponents on the ice, but has not let the taunting discourage her from the sport.
"It was very different playing with boys than playing with girls. Obviously, boys are much more physical, so the game on the ice is much faster," Petrie said. "There have been several times that boys on the other team would call me names once they found out I was a girl. They didn't believe I could hang with them."
For the past year, Petrie has driven to San Diego on Tuesdays, Wednesdays and Saturdays every week in order to practice and play with her club team. With her father driving the round trip of 250 miles, Petrie was able to develop effective time management skills.
"I was blessed to have a father who was willing to drive me almost every single time. By doing so, I was able to do my school work on the drive down and back," Petrie said. "It also took a level of commitment and time management, which I think playing sports has developed."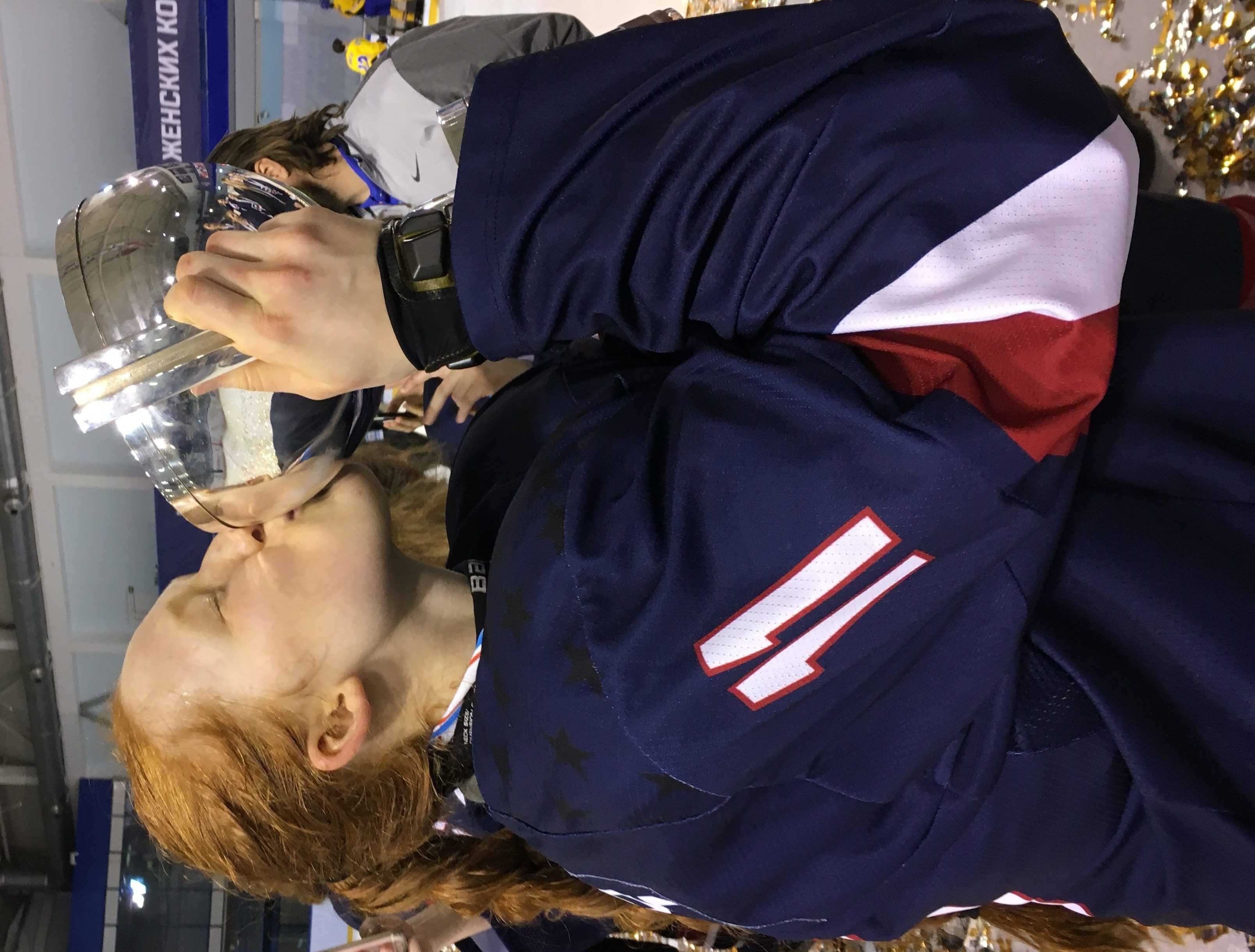 But San Diego is not the farthest Petrie has traveled for hockey. She competed in the Czech Republic in January 2017 and in Dmitrov, Russia, this past January as part of the Junior Women's USA World Championship team. The team won a gold medal in both competitions Petrie attended, and she was named the Player of the Game in the gold-medal match this year against Sweden.
"For me, it's really fun to be able to play in a competition with the top girls in the world, because playing with guys, you don't get to do that often," Petrie said. "Also, the U.S.-Canada rivalry runs deep and is so much fun to participate in. I love representing the stars and stripes."
Petrie also plays on the varsity girls basketball team, helping the team win the Division 4A Championship last season. Her coach, John Braddell, sees the effort and athleticism Petrie contributes to any team she is a part of.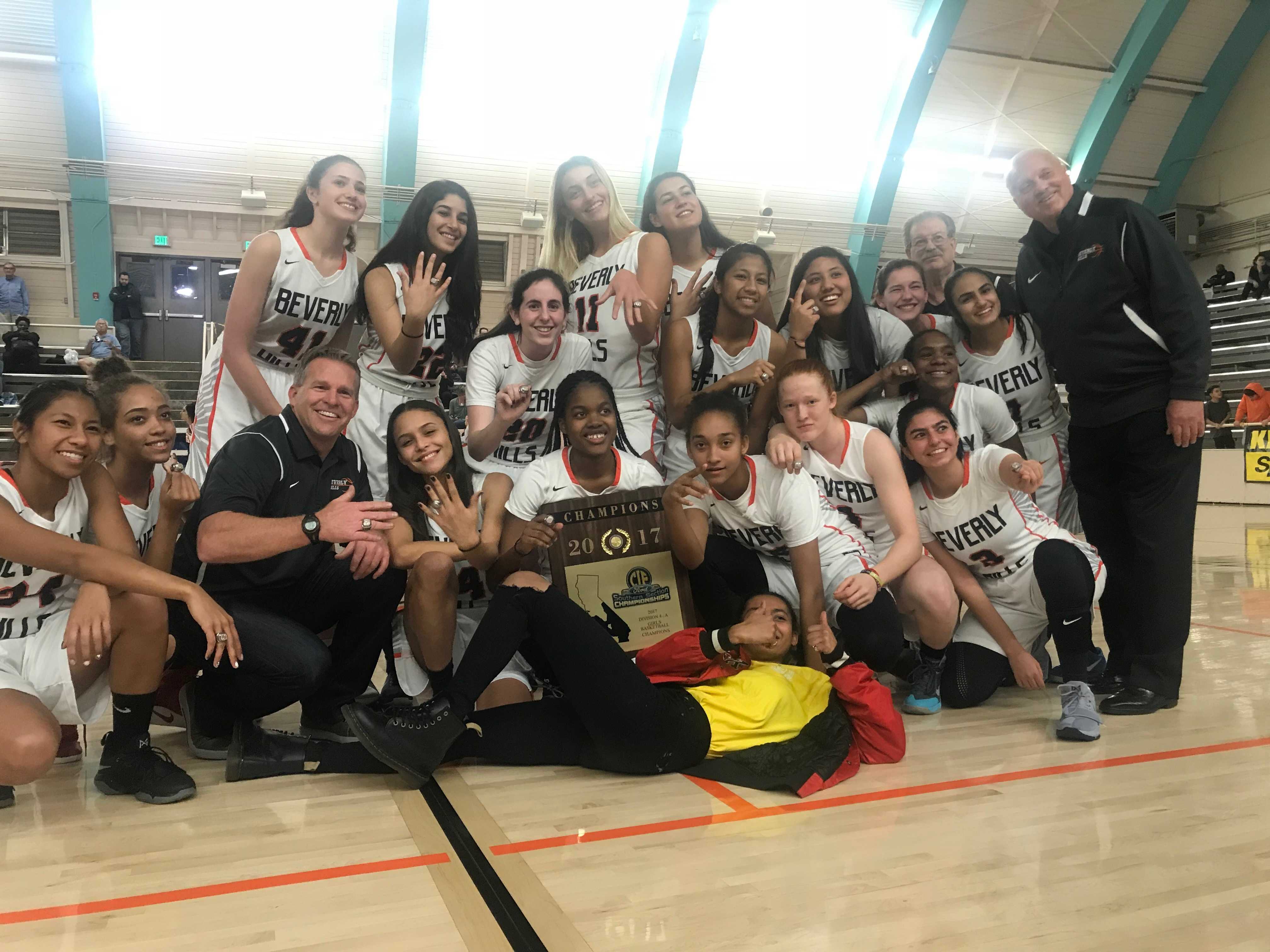 "Dominique is just an outstanding athlete in any sport she plays, whether it be tennis, basketball or hockey. She is physical and gets her job done," Braddell said. "Her heart is the most important thing. You can't coach heart, and Dominique uses her attitude and commitment to the team to support her teammates and get everyone else in the right mindset."
Senior Megan Saghian, Petrie's co-captain on the girls varsity basketball team, has known Petrie since middle school. Saghian echoes Braddell's praise for Petrie's work ethic and effort on the court and in the rink.
"I think if there is anyone that deserves the success, it's her. She's dedicated every bone in her body and every ounce of her being to hockey. She's always working extremely hard, always on the road training. She never gives up," Saghian said. "This is all she ever wanted,  and she finally achieved it. She didn't just deserve it, she earned it."
Saghian believes that the most important quality Petrie demonstrates is her positive attitude that pushes her teammates to play at their peak.
"Peach has one of the best attitudes. Regardless of what we are facing, she comes out, motivating all her teammates with a positive attitude, and ready to give it her all," Saghian said. "She has a great attitude, never has anything to complain about and generally wants the best for everyone."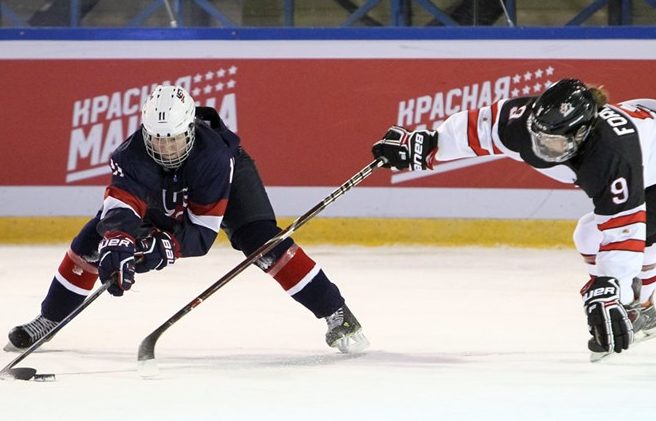 Petrie has committed to play at Harvard University next season.She believes the combination of academics and the ability to continue playing the sport she loves offered her an amazing opportunity.
"Not only does it allow me to pursue my goal of playing hockey at the Division I level, but also it is an incredible education," Petrie said. "So, for me, it's the best of both worlds and something I could not pass up."