Make your own burger at The Counter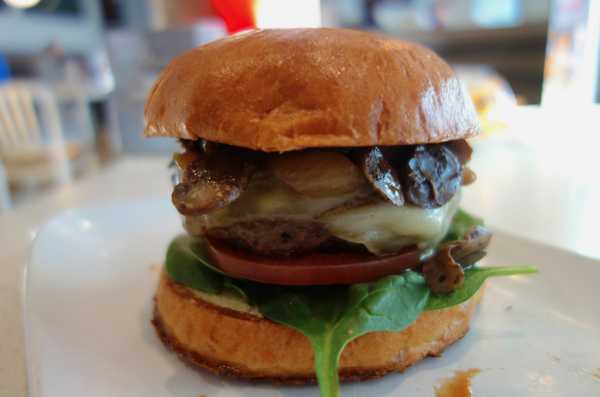 Kevin Park, staff writer
Century City Mall is surely one of the most popular places for students to hang out for shopping, movies and food. It has various stores from fashion to electronics, one of the best theater experiences in Los Angeles and, of course, a variety of cuisines available in numerous restaurants. One of the newest additions to restaurants in Century City was The Counter, which is a do-it-yourself American burger house. Attracted by its creative and unique custom-building experience, I decided to sit down at The Counter and make my own burger.
When I first stepped into the restaurant, I could instantly notice that this is an American restaurant. Two gigantic TVs showing sports and rock-themed paintings arouse sporty feeling. Although the overall interior is very modern rather than the '60s or '70s style, it still has some retro styles in the seats and bar.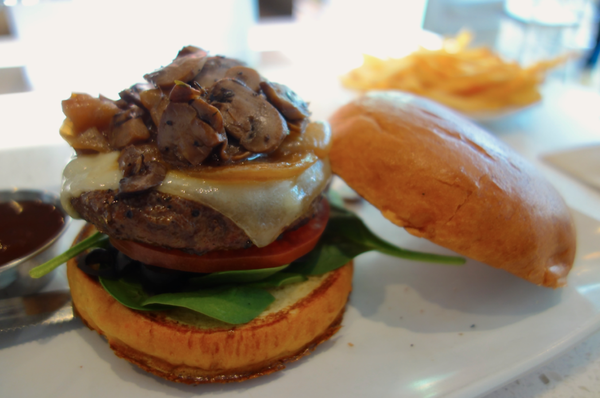 My first impression of service was little awkward, because no one really greeted and guided me to a seat. I had to ask the bartender where to sit and she told me to grab any seat I wanted. I wish I did not have to ask someone to be seated, but it was understandable, considering the fact that it was late lunch time around 3 p.m.
It was my first time experiencing a custom-built burger, so I was very excited. The waitress was kind enough to explain how custom-built burger works at The Counter. Customers can choose one meat, one cheese, four toppings, one sauce and one bun. In addition, they can add toppings with an extra charge, including premium toppings. If you prefer the simpler way, you can always go with signature burgers. The menu, or order, was very comprehensive and easy to follow. It was as easy as writing an order at a sushi bar.

My choices were 1/3 lb beef, imported Swiss cheese, baby spinach, black olives, sautéed onions, tomatoes, sautéed mushroom (premium), sweet BBQ sauce and regular hamburger bun with potato french fries. The hamburger was excellent. I found it little difficult to eat for the first bite because of its size, but after some bites, it was much easier. The toppings were very fresh, especially the tomatoes and spinach. However, the medium-cooked patty was more like medium-well to me who prefer some pinkness and softness. Next time I visit "The Counter," I will have to go with medium-rare. French fries were mediocre; I wish they were crunchier and thicker. Next time, I should try onion rings or sweet potato fries instead.
The service was very kind. I would not say it was extremely fast, but I would not complain about its speed, considering the freshness of the food. I wish the French fries were served on paper to soak up some oil.
The Counter is definitely a place I will revisit. There are infinite combinations you can create with custom-built order. If you want to have a casual American lunch or dinner with limitless choices and freshness with your families, friends or colleagues at work, I strongly recommend The Counter.
The Counter
opens from 11 a.m. to 10 p.m. on Monday through Saturday, from 11:30 a.m. to 9 p.m. on Sunday and is located near the entrance from Santa Monica Blvd. at Westfield Century City, 10250 Santa Monica Blvd. Los Angeles, CA 90067.