Interact benefits city, planet
Alex Menache, staff writer
The end of year is when on campus activities start to wind down, but not for the Beverly Interact club, the high-school version of the Beverly Hills Rotary Club. The group, headed by junior Nicole Sayegh, is a service organization dedicated to promoting goodwill domestically and internationally through participation in civic-related events.
Over Mother's Day weekend, 18 members of the club sold emergency tool kits donated by Rotarian Les Bronte, with the proceeds going towards buying a defibrillator for the Beverly Athletic Department as well as for children in both Africa and Panama.
On June 4, the club will volunteer alongside BH CPR to sell more kits and on June 12 Interact will take part in a Beverly Hills Rotary-sponsored blood drive for the Cedar Sinai Medical Center Blood Bank at the Peninsula Hotel.
Since the beginning of the school year, the club has contributed to causes including Lupus LA, LA Marathon, Every 15 Minutes, the Chinese New Year Parade, BH CPR, LA Regional Food Bank, Community Emergency Response Teams, Rotary Day of Service and Earth Day.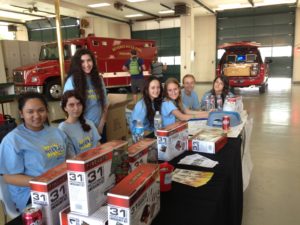 Sayegh, along with other members of club including Adam Slavick, Paige Dubelko and Lauren Kurtz mark Interact as one of their most impactful high school activities.
"Life is not about dwelling on wasted opportunities but rather about having the chance to help create a brighter future for generations to come," president Sayegh said. "To join a club that has the potential to save lives is a wonderful experience that everyone should try."
Anyone who would like to participate in next year's Interact Club can contact President Nicole Sayegh.