Kevin Park, staff writer
The author of "American Dervish" and screenwriter of "Disgraced," a Pulitzer-winning drama about ethnic prejudices in the post-9/11 America, Ayad Akhtar, visited Beverly on June 5, to share his cultural experiences and answer questions of young Normans.
Inviting Akhtar was not done overnight. English teacher Julie Goler, who spotted the potential benefit of having him, put an enormous amount of effort to invite him to campus.
"As an English teacher and book club facilitator, I was able to get an early copy of 'American Dervish' and I found this particular book perfect for the upcoming Hero Project, since it was particularly unique about the Muslim protagonist. I wanted students to be inspired by reading this book and asking questions," Goler said.
Story continues below advertisement
In preparation of Akhtar's visit, social studies teacher Roel Hinojosa, English teacher Dr. Steven Rubenstein and Goler collaborated to provide students an open discussion lecture about 'American Dervish' and Muslim culture in America.
"I think the enrichment classes were very effective. They were great opportunities for students to learn about the context and background of the novel and Islam. I was very happy to see even some parents showed up to the enrichment," Hinojosa said.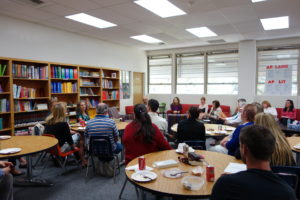 On the day of his visit, Akhtar first attended a luncheon with teachers, discussing his book and Muslim culture and answering questions from teachers before attending the assembly. Akhtar shared his intention that he does not want the book to be particularly judged; as an author, he did his best making the story as compelling as possible for readers, leaving the interpretation of the book open to them.
Akhtar began the assembly with a reading from the book where the influence of the Muslim culture on women was depicted. He read, "I keep telling her the fact that Nathan's Jewish is a good thing. They understand how to respect women, behta. They understand how to let a woman be a woman, to let her take care of them. they understand how to give a woman attention. I told Mina-Auntie that he will give her a life she can never dream of with a Muslim man. Muslim men are terrified of women…all of them."
After the reading, Goler acted as the moderator for the event, asking Akhtar questions and fielding  questions from the audience.
Answering Goler's questions, Akhtar shared his unique experience of childhood as a child of Pakistani immigrants in the Midwest, where he felt different when he was at home with Muslim parents versus interacting with everyday American culture outside his house. He also shared the story of how his characters were created; many characters were mostly depicted from people around him, including his parents and himself.
"Hayat is myself, but also not myself. Hayat's first name and and my first name share three letters, and I designed it to be like that," he said.
When Goler asked Akhtar if he has any advice for young writers, he shared his inspirational story of his teacher who assigned him to think what the story of a train furiously running into a dark tunnel means every night. Later he found this assignment so intriguing that it inspired him to write such stories that question the meaning of life. Akhtar also said, "You have got to stick with what you are doing. You have to recognize what you are not good at and try to improve it with feedback people give you."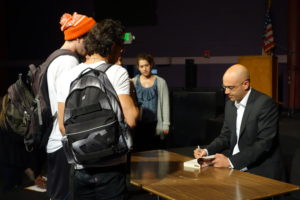 Soon after, Akhtar gave his autograph to book owners and answered more individual questions from teachers and students.
After the assembly, Akhtar shared his impression of the assembly with Highlights.
"I was very excited when I was invited to Beverly Hills High School and I was eager to hear about what students thought about the book and how they felt. I think we had a wonderful discussion," Akhtar said.
Akhtar also shared his hope that students felt touched by this book more than anything.
"I hope the event was very meaningful to them. I do not want them to learn anything particular from this book, other than that it touched them," Akhtar said.
This is the third year of having an annual Hero Project at Beverly, and the reactions from both teachers and students have been very positive.
"I was very impressed by the book, and Akhtar is unbelievable. It was a very special experience for students to not only talk about the book, but also ask the author deeper meaning of the book," Rubenstein said.
"I want to thank Mrs. Goler and company for organizing such a unique opportunity that me and my fellow peers are very grateful for," senior Brian Safatian said.
Goler shared her intention of continuing Hero Project next year.