Max Stahl, staff writer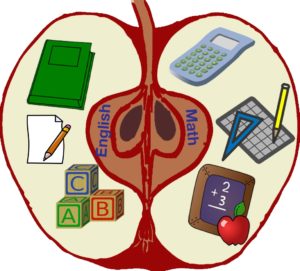 Next year, Beverly will join public schools in 45 states in implementing new Common Core educational standards. These standards, which set learning objectives for K-12 mathematics and language arts classes, will replace California's current standards in those fields. Teachers, researchers and educational experts from around the country contributed to the development of the Common Core.
The National Governors' Association, the Council of Chief State School Officers and various charity organizations, such as the Bill and Melinda Gates Foundation, have funded the development and execution of the Common Core.
"The driving force [behind the creation of the Common Core] was the desire to make sure that anybody graduating from high school anywhere in America would have had the opportunity to acquire the skills that someone would typically need in college and, in most cases, in whatever career they were pursuing beyond that,"English teacher Bill Hiatt, who attended a Common Core workshop in July, said. "The cornerstone of the program is college and career readiness."
Another of the Common Core's main goals is continuity: the new standards emphasize greater consistency between grade levels, such that different courses repeat less information and more smoothly build upon students' prior knowledge. The Common Core proposes to computerize standardized testing in mathematics and language arts, starting in the 2014-2015 school year. It has yet to be determined if students of all grade levels would take these computerized tests, or if only certain grade levels would take them.
This plan has raised logistical questions among teachers and administrators. This May, when sophomore English classes took a trial version of the computerized tests, the English Dept. had a "hard time" implementing the tests, according to Hiatt.
"I have difficulty imagining how every school in California, let alone schools across the 45 states that have adopted the Common Core, are going to have the equipment to pull off [computerized testing]," Hiatt said. "I think it'd be nice. I think we'll get there eventually. But I think saying we're going to do it in 2014-2015 is sort of utopian, and that worries me a little bit."
Hiatt noted that Beverly Hills Unified School District (BHUSD) schools' curricula already meet most of the Common Core's English requirements for reading and writing skills.
However, some changes in the English Dept. will be necessary. Certain grammar topics, for example, will be incorporated into different courses' curricula based on students' expected abilities in those courses. Nonfiction texts and the application of technology, in addition, will play a larger role in English classes. Hiatt stated that classes' current literary bases, though, will remain intact.
"In the long run, [the Common Core] will be good for the students. I think it will help us redefine what's really important to teach, and I also think it's going to help us recognize the things we were already doing well and then improve on the other things," English Dept. Chair Barbara Bader said.
The Common Core will create three key changes to math education: probability and statistics will be taught at every mathematics level, trigonometry will be reintroduced to second-year algebra classes and students will be required to explain their reasoning more frequently when solving problems (a skill previously reserved for geometry).
"Instead of [having math education] a mile wide and an inch deep, the idea of Common Core is that we will be covering fewer topics, but in more depth," Math Dept. Chair Jane Wortman said.
The transition to Common Core might also induce the Math Dept. to enact a three-year integrated approach to teaching mathematics, in which classes would blend topics that are currently taught as separate courses.
"You would start to develop a topic in the first-year course, and then you would continue to develop it in the second-year course and in the third-year course. It wouldn't be only geometry here, only one topic here; it would be more of a blending of the topics over the three years," Wortman explained.
Wortman stated that she prefers the integrated approach to the current, more traditional method of teaching mathematics.
"We do so much integration anyway, so it would be nice to have things introduced at a more cognitive-appropriate level," she said. "Younger kids' reasoning is still not as fully developed as [that of] older kids, so having more sophisticated reasoning come as you get older makes sense."
Although many students are not currently aware of the coming changes, some have expressed opinions regarding the transition to Common Core.
"Common Core isn't as invasive as it could have been to the lives and extracurriculars of students," sophomore Jackson Prince said. "If we're going to have standards, this is a good start. Perhaps in the future we can get it to be less invasive, but for now it's good."
The Common Core will not change standards in history or science. However, new language arts standards address skills in reading and writing historical and scientific texts.
Story continues below advertisement