Third Street Treasures: Fōnuts and Carmela Ice Cream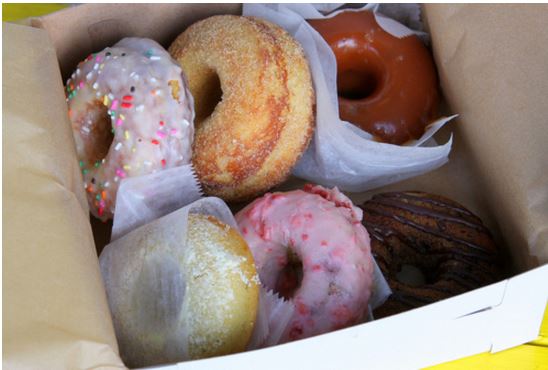 Braden Bochner and Juliette Deutsch, staff writers
Fōnuts
8104 W. 3rd St
Monday-Thursday: 7:30am-8pm, Friday: 7:30am-10pm, Saturday: 8am-10pm, Sunday: 8am-8pm
Fōnuts is not your mother's doughnut. Tucked away toward the end of Third Street, Fōnuts houses some of Los Angeles's most innovative pastries. Typical treats at Fōnuts include a wide variety of sweet and savory delights, featuring classic old school doughnut flavors with a modern twist. The catch: they make a guilty pleasure not so guilty. All of the doughnuts served live up to the literal meaning of the name "Fōnuts" (faux-doughnuts).
Co-owner and creator of the "Fōnut," Waylynn Lucas developed a recipe that offers customers the taste and feel of a true doughnut, but it baked rather than fried. Many items on the menu are certified gluten-free and vegan—while some may cringe at the thought of eating something vegan Lucas's expertise in balancing both taste and nutritional quality makes Fōnuts home to some of the best sweets Los Angeles has to offer.
Our favorite was the Salted Caramel cake-like Fōnut with a buttery caramel glaze. We can't stop thinking about the sticky-toffee treat. We also devoured the Banana Chocolate Cinnamon, which was very much like a banana bread, and the Vanilla Latte, a coffee cake Fōnut with a vanilla glaze. Another hit was the Classic Vanilla Cream-Filled as well as the Peanut Butter Chocolate. In addition to other sweet treats like Red Velvet and Pumpkin, Fōnuts also offers an assortment of savory options. Our two favorites were the Rosemary Olive Oil and the Maple Bacon. The Rosemary Olive Oil tasted like focaccia, an Italian type of bread, and the Maple Bacon reminded us of pancakes covered in maple syrup with a side of bacon. Due to it's popularity, Fōnuts limits six Fōnuts per customer. We highly recommend this creative, one-of-a-kind, bakery. Trust us, it's worth the line out the door!
Carmela Ice Cream
7920 W. 3rd St
Monday-Thursday: 11am-10pm, Friday-Saturday: 11am-11pm, Sunday: 11am-10pm
Take a walk further down Third Street, and you'll stumble upon Carmela Ice Cream. While the the shop is a fairly new addition to the neighborhood, it has already become a hit. Carmela's aesthetic is simple: fresh, organic ingredients. Every flavor is created with a distinctive combination of herbs, spices, flowers and seasonal fruit. However, what sets the Pasadena-native apart from most ice creameries in Los Angeles are the sweet and refreshing ice cream flavors, such as Strawberry Buttermilk, which delivers a rich and creamy taste, yet manages not to overkill on sweetness. Other signature flavors include Brown Sugar Vanilla Bean, a modern twist on a classic favorite Vanilla, and Mint Cacao Nib—the Farmers' Market take on an old-school favorite, Mint Chocolate Chip. The seasonal menu includes flavors like Earl Grey Tea, Lavender Honey and Rose Petal, which were simple and clean.
Carmela has truly created the perfect combination of sweet and refreshing ice cream flavors. And it doesn't stop there. If you're as in love with Carmela as we are, you will want to sign up for their weekly ice cream workshops, where you get to learn how to make your favorite flavors from scratch!
Fōnuts and Carmela are setting the new standard for restaurants utilizing fresh and local ingredients. On a street such as Third Street, filled with popular classics like Toast and Joan's, these two food-spots are redefining classic American culinary traditions.