New coach revitalizes team
From the Sept. 9 print edition
Jackson Prince, staff writer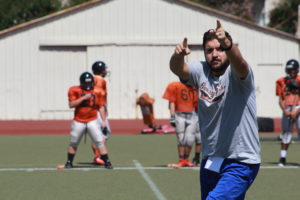 At first glance, the black and orange clad Norman football team looks similar to those of years past. They still don the same helmets, pads and cleats they did last season, and the seasons prior to that. However, what the Beverly players are doing while wearing the gear is where the changes lie, an evolution attributed to the new "captain of the ship," coach Charlie Stansbury.
When Stansbury was hired, the news spread and reached the ears of many alumni; they recognized the recently hired football coach as the son of Bill Stansbury, an assistant to the football team in the 1980s.
Stansbury found great value in having a football coach as a father. "Growing up with a family in which your dad is a football coach, you get to meet a lot of people and see a lot of different places," Stansbury said. Although Stansbury noted that his dad taught him the intricacies and strategies of the game, the coach expressed hope that he'd grown out of his dad's shadow.
"I knew that [the fact that my dad was a football coach at Beverly] would be brought up into conversation, but at this point, I know what I can do…and I know that I'm not him," he said.
In fact, the only piece of advice that Stansbury-the-elder gave his son regarding the job was to "be consistent," which is "important when bringing in a new coach."
Stansbury has an extensive résumé. He served as fullback and tight end for Paso Robles High School, and even played for the University of San Diego, until several injuries ended his playing career. However, Stansbury wasn't ready to give up football completely, and immediately began to coach. He held positions at the University of San Diego, Concord University, Santa Barbara Community College, San Diego State and Golden West College, where he won a championship as the team's offensive coordinator.
Brandon Davis, a defensive lineman, is aware of his new coach's previous experience.
"Coach Stansbury brings experience," Davis said. "He knows how to win."
Though Stansbury and his team are eager for the season's start, he doesn't deny that the spirit and passion surrounding Beverly football isn't what it used to be. In the past two seasons combined, the team won just four games out of 20. But Stansbury believes that the team can revitalize the football culture at Beverly with hard work and a new game plan. He is "confident" that his players are making significant progress toward this "revival."
"I think these guys are just now starting to understand that football is as much about working hard and playing fast as it is about X's and O's," he claimed.
The new boss isn't the only one witnessing the improvement. Quarterback Zack Bialobos notices "everybody putting in extra work, whether it be on the field or in the weight room."
Bialobos also appreciates the new intensity that Stansbury brings to practice.
"If he tells you to go somewhere, you bet you're sprinting there," Bialobos added.
Jordan Etebar, center, finds practices to be more difficult than those of previous years.
"The pace of practice really picked up from last year. We're running and conditioning more than we ever have, but the work is going to be worth it in the end," Etebar said.
Left tackle Harrison Van Pelt, who had never played tackle football, admires his coach's ability to teach the little things during practices.
"His explanations of things, like why the choice of hand being put on the ground in my stance matters, are clear and improve my game," Van Pelt expressed.
The fact that Coach Stansbury has no prior notions regarding his players is viewed as an "advantage."
"All decisions are based on what we see our guys doing now and not on the successes or failures of the past," Stansbury said.
From a relatively outside perspective, football manager Hunter Lambert is aware that the team is operating with an added fire.
"[Stansbury] is getting the team to play at a level at which they didn't expect to be playing," Lambert said, as he watched over the team from a bird's eye view. "Everyone is playing to their best ability, because a new coach means new opportunities."
This attitude toward hard work and even harder workouts follows an evenbigger change in Norman football culture: the game plan. According to Stansbury and many of his players, fans will see a significant increase in the use of passing in games, which allows for the ball to move downfield more quickly and demands the "best" from each of the players on the field at all times. The team is excited to abandon the traditional ground game of the past as the playbook evolves.
"There's a bigger emphasis on quick passing, isolation plays and trick plays, and fewer simple runs up the middle. We're a new team, and we're going to be dangerous on the ground and in the air," Davis said.
The past two seasons were plagued with losses, and it was apparent that something had to change. The addition of Stansbury, with a lengthy résumé and strong family ties to Norman football, promises new opportunities for the team.
"If we get the idea that this is a fun thing, and that we can learn from each other and do something as a team, then we can bring the passion back to Beverly football," Stansbury said.
The first game of regular season was on Sept. 7 at Santa Barbara High School.