Third Street Revisited: Joan's On Third
Braden Bochner and Juliette Deutsch, staff writers
Joan's on Third
8350 W. Third Street (between La Cienega and Fairfax)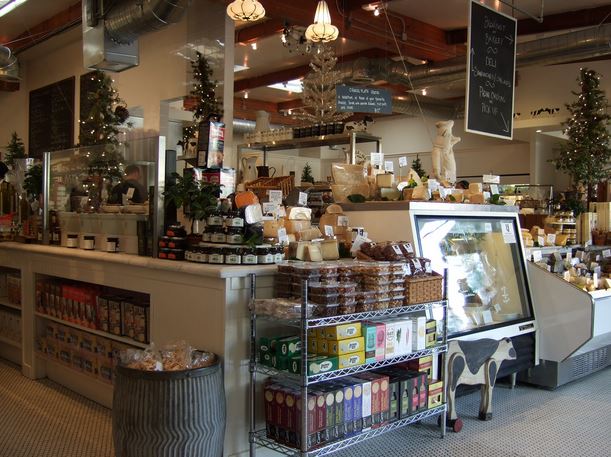 Monday-Saturday: 8am-8pm
Sunday: 8am-6pm
Driving down Third Street, any foodie in Los Angeles will recognize the black awning gilded with white font: Joan's On Third. The old-school, rustic white interior gives the restaurant a very casual, yet cool vibe. Joan's On Third's classic and trendy aesthetic naturally makes it clear why it is a favorite among food lovers in Los Angeles. But it's the quality of food that keeps customers coming back for more.
Joan's menu is full of variety, ranging from classic American sandwiches to crisp salads, all crafted with fresh, local ingredients. Our personal favorite was the famous Joan's Chinese Chicken Salad. We couldn't help but notice that this dish was on almost every table in the restaurant. The salad is the perfect combination of crisp lettuce with breaded chicken and a sweet and tangy dressing. Another Joan's classic, the Short Rib sandwich is grilled to near perfection. A Monterey Jack grilled-cheese sandwich filled with short ribs, pickled caramelized onions and arugula. This sandwich is definitely heaven! Each bite was rich and filling, yet somehow not overwhelming.
In addition to a delicious menu, Joan's is a brilliant combination of a cafe and gourmet market. Around the cafe stands cases of prepared foods filled with items such as Israeli Couscous salad, Mac and Cheese (our favorite!), and an assortment of fresh vegetables, and light appetizers and dips. The marketplace features an array of gourmet grocery items, including French cheeses, Italian meats and decadent homemade desserts.
A new addition to the sweet side of the market are Joan's fresh pressed juices. Our favorite was pineapple and mint. Among the desserts selection are freshly piped macarons, pastries baked daily and a separate gelato and ice cream bar where Salt and Straw ice cream was recently added. The Portland, Ore., based ice creamery is known for its delicious flavors such as sea salt with caramel and chocolate brownie. Our favorite desserts were Joan's chocolate chip cookies and the the homemade chocolate and caramel covered marshmallows.
With Los Angeles's ever-changing food scene, Joan's has managed to stay on top of the game. Its cross between a trendy Los Angeles cafe and New York City style gourmet market has made Joan's a lifetime favorite for all.