After a fun homecoming spirit week, exciting homecoming pep rally and thrilling victory at the homecoming football game, the actual homecoming dance took place on Saturday, Oct. 14 on the tennis courts. 
This year's theme was western and very cowboy-centric, hyped up as a hoedown in the hills. Attendees saddled up accordingly, wearing cowboy boots, cowboy hats and even horse costumes to embrace the theme.
"I love it," junior Diya Tuli said. "I like that I can wear cowboy boots."
"I think it's a lot of fun," Mr. Nick Henggeler, activities director of ASB, said. "I think it gives a lot of room for people to dress up. It was basically unanimous in the class, they all wanted to do it, so there was no telling them no, and this is what we got, so yee-haw, let's go." 
Story continues below advertisement
Speaking of ASB, a lot of effort on their part was put into making this dance come together.
"As the activities director, it's my job to make sure that homecoming happens," Henggeler said. "I oversee all of my ASB students, especially my dances' committee — the dances' committee is the one who places all of the orders, decides on what the food is, what the theme is, what type of rentals we're going to get, who our DJ is, and all that fun stuff."
"I'm really happy to be here," junior Sabrina Niku, student body vice president, said. "ASB has worked really hard on it, and I'm happy it turned out nice."
ASB elicited a lot of hype and excitement about the dance in the weeks leading up to it, as always, determined to make each year's homecoming better than the one the year before.
"I'm having so much fun and I'm so excited," senior Maya Hekmati said. "It's amazing and just as good as last year."
Tables for both sitting and standing were on the courts, with beautiful centerpieces provided by sponsor Beverly Hills Sweet Table. Staff and chaperones served dinner to guests, with plenty for everyone and lots of great options. 
"The food is incredible," Henggeler said. "I love Wood Ranch, I'm very excited."
Wood Ranch catered dinner, with delicious rolls, Caesar salad, mac n' cheese, barbecue dishes, and their famous ribs. Hokey Pokey LA provided dessert, offering New Zealand's favorite ice cream flavor that mixes together light crunchy golden toffee and vanilla ice cream into a soft-serve.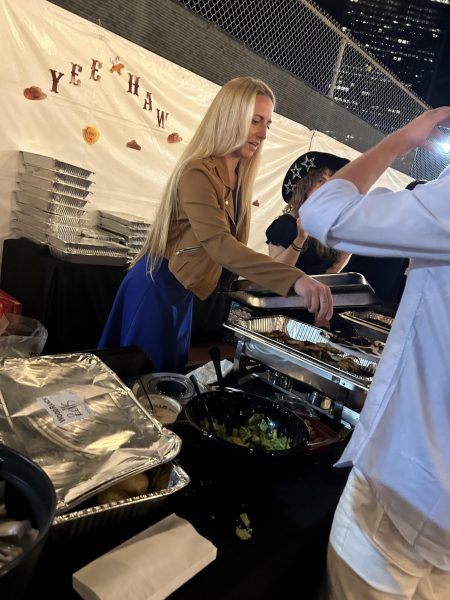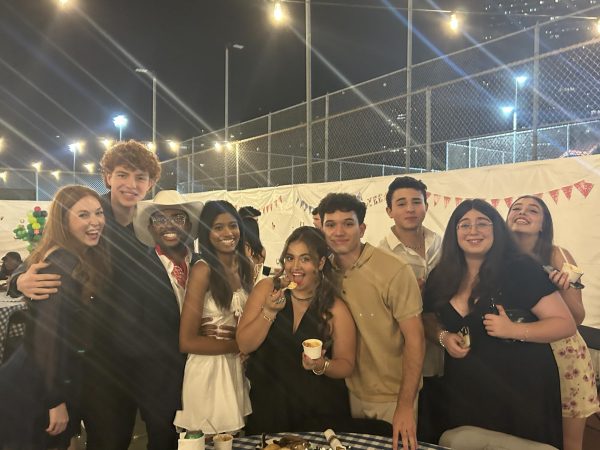 "I love the Hokey Pokey, it's so good," junior Elisa Bonaparte-Wyse said. "The food is delicious."
The tennis courts offered the perfect atmosphere for the dance, including tables sprinkled with cowboy hat decals and cactus balloons around the courts, to establish the western theme.
"I love the cactus balloon decorations," Bonaparte-Wyse said. "They're really creative."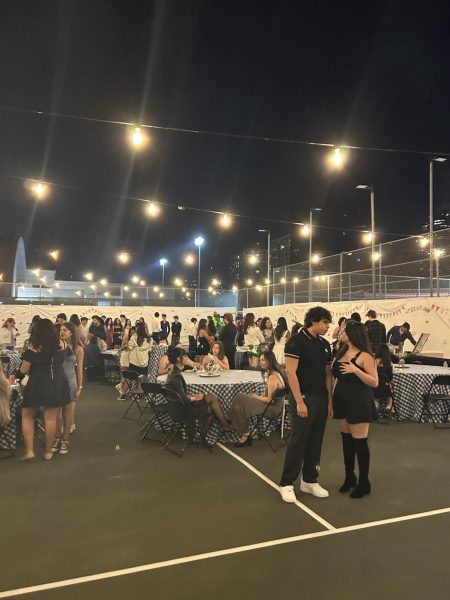 "I like the set-up," Egerman said. "It seems like we have some Jenga and games, looking forward to that. And I'm really excited for the dance floor, can't wait for that, too."
The dance floor was alive with students dancing to fun music, ending with a country song to bring the theme full circle and including a slow dance for the homecoming court.
Senior Nur Yilmaz, nominee for Homecoming King, said it was "amazing" to be nominated for homecoming court during his senior year. "It feels like a reward after all these years of high school," he said. "I'm excited and I'm ready to see my friends and have a good time."
This year's homecoming was also the last homecoming dance the class of 2024 will experience.
"I'm so excited," senior Talia Golshani said. "It's my senior year, and I think we're going to have a really great time at homecoming this year, all my friends."
The turnout ended up being impressive, with lots of students attending and having lots of fun on the dance floor, playing the games, eating the delicious food and spending time with their peers.
"It's definitely the most ambitious one we've done so far," Henggeler said. "And I think that it's going to be a great night."