I recently interviewed a teacher who I have always found to be organized, energetic and compassionate toward her students. Dana Findley graduated from the University of Illinois Champaign-Urbana with a BFA in Dance and a dream to become a teacher, since she was a child. 
"I can remember getting a chalkboard as a Hanukkah present," says Findley, "I always loved teaching to stuff animals."
Findley remembers dragging her sister to play pretend school when she was younger. She would also volunteer to teach kids and take on leadership roles, like being captain of her dance company in school. Findley currently teaches Modern Jazz 1 and 2, and is director of Dance Company, although she admits that in high school she loved her physics teacher so much that she wanted to double major in dance and physics.
Sophomore Haley Scholer, currently in Mrs. Findley's Dance Company, said, "She really has a vision for every [dance company] show." 
Story continues below advertisement
Dance Company hosts a performance every year, and this year it will be held at the Wallis on January 24 and 25. There are 12 dances in the show, seven of which are created by students. The Company has been working out technical issues, creating posters and buying costumes and props.
Haley Scholer also explains how organized and helpful Mrs. Findley is with helping them stay calm. Sometimes after class, Mrs. Findley will do meditation with her students. This is something I've always felt to help me cool down after dancing and helps me stay calm throughout the day.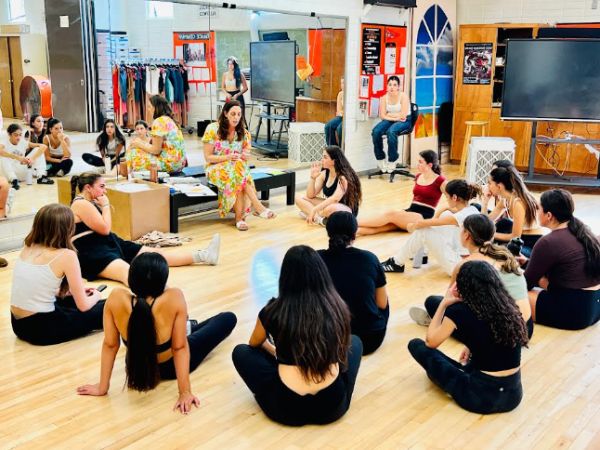 Helping students is obviously something every teacher wants to do, and the same can be said for Mrs. Findley. However, her form of helping students is to bond with them, and this is her favorite thing to do them.
"I really love the time I get to spend with them all," Findley said. Being a student in her class, I feel that Mrs. Findley tries to get to know her students. And having a teacher that you can bond with and depend on makes a big difference. 
"Mrs. Findley's class is the one class of all my classes that I can go to that I don't need to be nervous or … stressed about," sophomore Bella Naufal said. "I can just unplug and dance."
One thing I've noticed is that Mrs. Findley constantly tells her students to be in the moment and take things slow.
She's always telling her class, "Just try to take a deep breath."