Football turns over victory to San Gabriel
Robert Katz Web editor-in-chief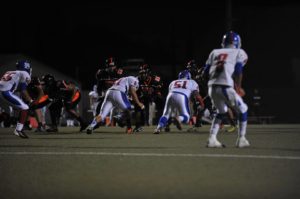 In the football team's first home game of the season, the Normans lost to the San Gabriel Matadors 6-13 on Friday, Sept. 20. The game served as the beginning of Coach Charlie Stansbury's journey as Beverly's new football coach, as well as a test for the team's new players.
A quiet first quarter gave way to a touchdown and PAT (point after touchdown) by San Gabriel before halftime, leaving Beverly trailing 0-7. By the third quarter, wide receiver Raehaan Poonja had scored Beverly's single touchdown. The home team, however, failed to convert on their single PAT attempt.
The loss to San Gabriel leaves Beverly with a 0-3 record.
Stansbury voiced some disappointment with the team's execution on the offensive end, especially with the Normans' frequent turnovers.
"We're a little inconsistent offensively and defensively," Stansbury said. "We made some really nice plays today, but at the same time we did some things where we should have been able to step it up a little bit more. When we turn the ball over, that's going to hurt you in every football game."
Although he was dissatisfied with the team's playing, Stansbury praised the players' camaraderie.
"I think our ability to come together and keep working and working is our greatest strength," Stansbury said. "We gotta keep building every day."
Wide receiver Christopher Johnson saw the team's issues as only temporary.
"I think that there are a lot of younger guys coming out who aren't as comfortable playing at the varsity level," Johnson said. "There's a lot of confusion and we're still working on getting that collective effort and understanding ourselves as a team."
 In terms of the team's assets, Johnson was impressed with the defensive line, which was "playing better than most games."
Regarding the transition between coaches, Johnson is satisfied so far.
"I think [Stansbury's] bringing a lot of good things to the team," Johnson said. "He's a lot more instructional and helps players learn and he's trying to make them more comfortable. I think he's a good addition to the team."
Stansbury addressed how he plans for the team to improve in subsequent practices.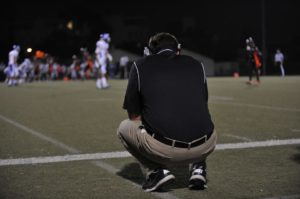 "Not turning the ball over always helps," Stansbury said. "The other thing is to understand each day at practice there's a tempo and a level of play we gotta get to. We'll keep adjusting and doing whatever we think is best to be successful."
In the meantime, Stansbury looks to the upcoming home game with San Marino as an opportunity to show Beverly's improvement.
"We'll go out there and we'll perform with a little more effort than tonight," Stansbury said.
Beverly will face off against San Marino, who currently have a 2-1 record, at home this Friday, Sept. 27.