Boys cross country team takes first at Mt. SAC
Arman Zadeh, sports editor
The Norman cross-country squad had perhaps its strongest outing of the season at the Mt. SAC invite on Oct. 25. Behind top runner senior Aaron Wolfe, the boys varsity team took first place out of 22 schools, scoring 81 points and raising a 26 point gap between them and runner-up school Rio Americano. Wolfe ran the 2.91 mile course in 16:07, earning first place individually and tying for sixth on Beverly's All Time records for the course.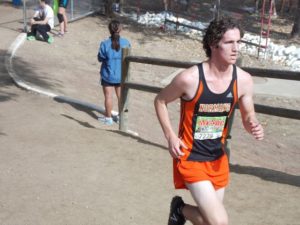 "I wasn't expecting to do as well as I did. I came out in first for the first 100 meters. I was waiting for the faster runners to pass me at that moment. After the first mile I was still in first and not until I finished the first mile and a half of it did I think I had a chance," Wolfe said. "It was a great race for me since this the Mount San Antonio College Invitational is a very prestigious race; it improved my confidence heading into the postseason for CIF since we will be running it at the same course."
Boys varsity runner Will Ezzard took 12th place with a time of 16:54, followed by senior Aaron Karlin in 14th place (17:00), senior Mike Redston in 23rd place (17:44), and senior David Neiman in 35th (18:04).
Neiman believes that the win is a testament to the team's recent improvement.
"[The meet] went well. We've been training since summer and we're in good shape right now," Neiman said. "The win was great because we hadn't been doing that well earlier this season. We still have finals and CIF, so we can still find ways to improve."
Despite the success of its varsity team, Beverly's other boys teams were not as outstanding at MT. SAC. Leading the boys JV team in 15th place was runner Alexander Ghavani who completed the course in 18:37, finishing in 29th. Five runners from the boys sophomore team did not race and the team did not place.
The girls sophomore team took fourth led by runners Nastazia Moshirfatemi (23:19) in 29th place and Leah Wolchin (23:27) in 31st place.
Moshirfatemi was satisfied with the girls' performance at MT. SAC and also saw signs of improvement from the team.
"It was a challenge but we all fought hard and I think that's what matters the most at the end of the day," Moshirfatemi said. "All I could think about is getting it over with, it was one of the toughest meets but all I kept saying to myself was not to walk one step."