MTA Purple Line Extension results in community action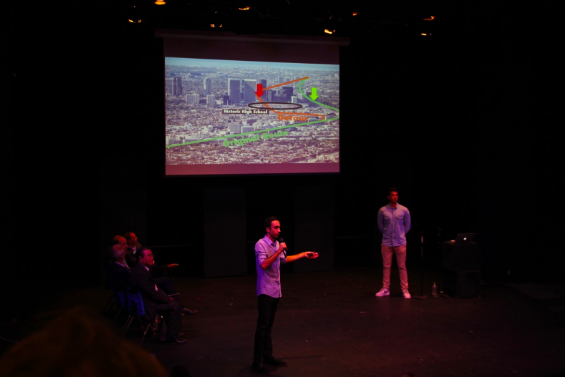 Alya Mehrtash staff writer
Ava Seccuro staff writer
Within the next year, the Metropolitan Transportation Authority (MTA) purple line extension is going to be constructed directly underneath the high school and raise questions about the impact on students' well being and learning environment. The impact on the community has sparked student awareness, education and action.
The purple line extension originally planned to go along a path mostly under Santa Monica Boulevard, but is now set to travel under the high school primarily due to Metro-alleged fault lines. The purple line will go directly under the tennis courts and historic building B1, which is currently under construction. The risks and concerns revolving around the purple line extension were thoroughly explained by Student Board Member senior Sean Toobi, ASB Head Row President senior Ryan Abrishami, BHUSD attorney Terry Tao, Dr. Mathias Basner, Dr. Edward Avol and Dr. Marc Schenker at an informational forum held on Sept. 24.   

Health and safety
"I can only predict negative effects on our students. It is likely that their health will be harmed, safety will not be ensured and learning will be impeded," Toobi said. "Noise levels could also be very distracting. I think that Metro's expansion through Beverly Hills is great, but not when it disturbs the health and education of our students."
However, in a letter Metro recently mailed out to community members who will be affected by construction, Senior Manager of Construction Relations Kasey Shuda contradicted Toobi's argument.
"Metro is committed to being a good neighbor and keeping those who live, work, and go to school near the Project safe, as it is our highest priority," Shuda wrote. "Metro is committed to building the Project with as little impact to the school campus as possible. We have restrictions in place for certain activities and equipment use during school hours. We must also follow strict environmental laws and regulations."
Attached to the letter was a report about the effects on air quality of Metro's construction. The report was issued by the South Coast Air Quality Management District (SCAQMD), an air pollution control agency that works in parts of Los Angeles, among other cities in southern California. According to the report, "Anyone wishing to install, operate, or modify equipment that could be a source of air pollution within this [SCAQMD-controlled] region must first obtain a permit from the SCAQMD."
Metro obtained this permit on Aug. 10, 2018.
"Our calculations show that based upon a 30-day average 5.26 lb/day of nitrogen oxides; 0.69 lb/day of carbon monoxide, 0.18 lb/day of volatile organic compounds and 0.01 lb/day of particulate matter with an aerodynamic diameter of 10 microns or less will be emitted from the project," the SCAQMD stated.
To alleviate community wide concerns pertaining to the harmful pollutants involved with construction, SCAQMD concluded that under hypothetical worst case scenarios, the effects of such pollutants will not interfere with the wellbeing of even the most vulnerable members of the community.
"Using worst case conditions, our evaluation shows that the chronic health risk is well below our rule's toxic thresholds (below a Hazard Index of 1)," the SCAQMD wrote. "According to the state health experts, a hazard index of one or less means that the surrounding community including the most sensitive individuals such as very young children and the elderly will not experience any adverse health impacts due to the toxic nature of these emissions. In addition, the long term cancer risk from these emissions is below the SCAQMD risk threshold of one in a million."
The high school was built on top of 70 to 80 unmapped oil wells in the early 1900s. According to the experiments conducted by the district, because of these oil wells, there is a significant presence of methane gas and hydrogen sulfide gas in the area that MTA would be unearthing.
"The other thing to consider is potentially dangerous gases in the field space below the school. Methane is a truly flammable, explosive gas," Avol said. "We don't know what exactly the levels are below or where exactly they are or if they will come out in the process. It seems pretty likely that under the school, it's going to come out once they start drilling."
In addition to the noxious gases beneath the campus, District experts concluded that the multiple pollutants emitted into the environment in the construction process could increase cancer risk by 10 times. However, MTA disagrees with this, and has determined through their own research that cancer risk will only increase by 3.6 times.

Noise disruption
Due to the subway station's close proximity to the high school, people who oppose the new detour claim that its construction will cause daily disruptions in the classroom.
"The major concern with the construction noise that will be going on is how that interferes with classroom communication," Dr. Basner, Associate Professor Of Sleep And Chronobiology In Psychiatry at the University of Pennsylvania said at the student-run informational forum. "With every 10 dB increase in the noise, these students would be one to two months behind their peers that are not exposed to noise…the higher the noise, the lower the academic performance will be of the students."
According to some of Basner's studies, noise drastically affects academic performance. MTA has promised that their noise levels will not exceed 65 dB, which is near the legally required noise level maximum of 75 dB.
Principal Mark Mead's primary focus is regarding the well being of the students and staff. However, he has not received any major complaints so far from either students or staff about noise or pollutants coming from MTA's staging area adjacent to the bungalows.
"My day-to-day stance is the same on any issues. [It's] the safety and academic well being of our school…I'm being as cautious as I can about how those two things are affecting students…and our academic environment," Mead said. "As of now, I have not heard any grave complaints about noise level in the villages…I don't think I've heard of any this year about noise."
The concern for noise disruption is pertinent for both students and staff, and also for the MTA. In order to mitigate the noise coming from their construction, MTA has taken several steps in hopes of making their construction project less disruptive to the community.
"The Metro Purple Line Extension Project has implemented several construction noise mitigation efforts in order to help reduce the noise caused during construction work," MTA wrote on their website. "These include creating sound walls at staging yards, using moveable sound blankets at construction sites, configuring construction sites and equipment so as to minimize noise impacts on the community, and phasing activities to avoid simultaneous activities that generate high noise levels."

Community action
Abrishami acknowledged the difficulty that the students will inevitably face when challenging such a large corporation, but emphasized the need for the community to step in and join the fight.
"We, students, are not naive. We understand that Metro is a multi-billion dollar company. We're just a group of 1,200 kids. What can a group of 1,200 kids do against a multi-billion dollar corporation? It's going to be tough. We understand that," Abrishami said. "However, the only way we can achieve something is if every single person in this community stands behind us. Not stand behind Sean and I, but stand behind every single student at this school."
Many students like Toobi and Abrishami, are extremely adamant about achieving their goal of moving the new station. One way they have worked toward this goal is through the formation of the Student Action Committee (SAC), a new student activism group that is a part of ASB. Abrishami and Toobi have been working to plan an upcoming walkout where students and possibly staff from all five BHUSD schools will walk to a significant site in hopes of drawing attention to the situation in Beverly Hills.
"We understand that in order to get something done, we have to do more things; more than just community forums, more than just speak to students. We have to go big. We've got to create some kind of commotion. We've got to get people in the federal government, whether you agree with their politics or not, to take note of what's happening in Beverly Hills…The federal government does have the power to stop this. Our goal is to stop the funding to Metro. Now, you might have a stake in this school, you might not. Your students might attend Beverly, they might not," Abrishami said at the student-run community forum on Sept. 24. "Every single person in this room or not has an obligation as a human being to get in front of any issue that causes the potential health risk to students, the staff or any community member."
When speaking at the community forum, Superintendent Dr. Michael Bregy questioned the reasoning of Metro's detour under the school and showed his support of the students' endeavors to stop it.
"The most important message that I want you to take away is something that I do every day in my job, and that is [that] I have to ask myself, 'Does this make sense? Is this reasonable?'" Bregy said. "There is a compromise here where the route doesn't have to go through the heart of our one and only high school in Beverly Hills, and the students want to make it very clear that that compromise must be reached."
At the informational forum, Toobi made it clear that in his eyes, the most important aspect of their opposition toward MTA is the safety of the school community.
"The reason why Ryan and I are up here today is for the health and safety of our students and staff. No matter what happens, that will be our number one goal," Toobi said. "No matter how we get there…we want to make sure that that is the one thing that we do achieve for our students here."
Metro representatives did not respond to a request for an interview in time for publication.
The next Metro community meeting regarding the Section 2 (Wilshire/Rodeo and Century City/Constellation stations) construction will be held on Nov. 13 at the Century Plaza Towers from 6:30 to 8 pm.