Alya Mehrtash staff writer
From the beginning, junior Karina Yaroshenko didn't necessarily adhere to the status quo of a typical childhood. Many children start to play community sports such as soccer, baseball or basketball, but for Yaroshenko, that didn't satisfy her thirst for competition.
At age seven, she began fencing and, right away, her natural talent was clear. Her coach encouraged her to continue the sport, and since then she has amassed an enormous amount of success.
The years of training since beginning the sport have greatly contributed to her consistent accomplishments. In January, after years of competing, she won her first fencing world cup in Rome—her "proudest moment" thus far in her fencing career.
"Just winning that competition changed me as a person because I kind of developed the confidence that I lacked before. It shaped my character and showed me that I'm capable of doing these things. Ever since then I've kind of been on an incline, I've been doing consistently well in all my competitions," she said.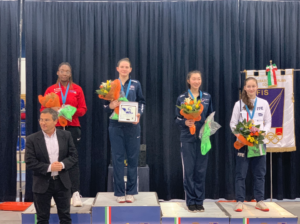 One of the greatest components to her success, such as her unforgettable victory in Rome, has been the rigorous training that she undergoes throughout the year. Yaroshenko dedicates five to six days, for three-to-four hours each day, out of each week to practice and strengthen her skills.
"The season is really ongoing. We only get breaks for two [or] three weeks over the summer…It's pretty vigorous. We do weight training once or twice a week, which is really intense; we do footwork almost every practice for about an hour, a lot of free fencing, and I have private lessons every time I'm in the gym for like an hour," she said. "This year, especially, has been harder because my coach is trying to put me in an advanced level. It's a lot."
Sophomore Ethan Paz is also well accustomed to the rigorous training that comes with competitive fencing. He has been training with Yaroshenko at the Los Angeles International Fencing Center (LAIFC) for the past four years. During this time, the two have found that their different styles of fencing can benefit both of them in practice.
"It's been very helpful for the both of us [to train together] since our styles and strategies are very different. We help each other learn to deal with different and, at times annoying, styles and strategies," he said. "It's been fun to see her change and improve over the years."
Yaroshenko's coaches have played a significant role in her success throughout her fencing career. The encouraging climate they have created for the fencers at LAIFC is one that has motivated and continues to motivate her.
"My coaches built this environment for us to motivate us to want to do well, and especially after winning Rome, I want to win again. So, it's just like I want to go there because I'm so motivated to do well at the next one. I love the sport, but I [also] want to be so successful because I've put in so much work that I just want to be there," she said.


Fencing has also contributed to Yaroshenko's success outside of the sport. It has allowed her to strengthen many important life skills like maturity and time management.
"Fencing taught me responsibility and maturity for sure. I have to really maintain my schedule and it's been especially difficult my junior year because my classes are harder and I have to focus on my SATs and the recruitment process is going on," she said. "I kind of taught myself time management and that all just made me more mature because I'm able to line up my priorities and what I need to do."
Fencing has been an extremely prominent aspect of Yaroshenko's life, and she hopes to pursue fencing in the future. In the midst of the recruiting process, she is currently speaking with the University of Notre Dame and Columbia University, two very strong schools in both academics and in collegiate fencing, and hopes to represent the United States in the 2024 Olympics
Regardless of the challenges of intensive training, the feeling of winning always draws Yaroshenko back in. That same feeling in Rome will be one that will forever be ingrained in her memory.
"When I scored the last point, and when they were playing the national anthem and I was on the podium I cried," she said. "It was just the best feeling I've ever had because it's just knowing that all your hard work paid off, knowing that you actually deserve to be there, that all of your losses and every time that I cried after I lost at competitions—it kind of shaped me to be where I was. Just being on the podium with all my friends clapping for me, cheering for me, it was unbelievable."
Story continues below advertisement