Five chocolate shops in the greater Los Angeles Area, ranked
Leia Gluckman staff writer
Emma Newman staff writer 
Before Valentine's Day, people rush to stores to buy gifts, which display their love and affection. While flowers, teddy bears and jewelry are all typical gifts to give, chocolate is often the easiest and most enjoyable for both singles and couples alike. 
However, with the large selection available, it is hard to know which chocolates are perfect and which taste unextraordinary. Below is a list of five local chocolate shops, ranked in terms of the variety of selection and the taste of each truffle. 
Compartes: 3.5/10
$$$
Creativity: ⅓ 
Compartes has a decent number of chocolate bars available, with flavors ranging from simple, like plain dark chocolate, to out-of-the-ordinary, like cereal milk. However, it lacks variety in the individual chocolate selection. The only options are dark chocolate candies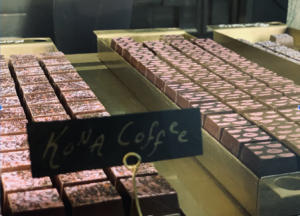 with creamy fillings of different flavors, and there were no plain chocolate options available. Instead, the customer has to opt for unconventional fillings, like raspberry or mint. 
Food Quality: 2.5/7
While Compartes chocolates were not horrible, they lacked the decadence and strong flavors that great chocolate should have. The raspberry truffle is tasty, with a strong fruity taste and a hard dark chocolate shell. However, despite its natural fruity flavor, its aftertaste is a bit artificial. In addition, the filling is a bit too sweet, masking the natural fruity taste of the truffle. In terms of texture, the creamy and crunchy combination was pleasant and balanced. On the other hand, the Kona coffee truffle bears no resemblance to coffee and has no flavor whatsoever. While the hard shell and creamy center are decent, the lack of coffee flavor is simply inexcusable. Overall, Compartes chocolate is far too expensive for their unimpressive, disappointing and artificial truffles.
Chokolatta: 5/10
$$
Creativity: 1.5/3
Aside from chocolate truffles, Chokolatta offers several hot drinks both chocolate-based and not. While there are some unique flavors of truffle-like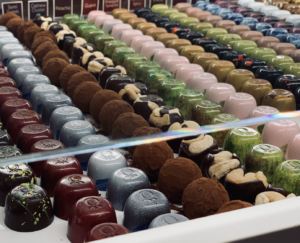 red wine and guava, when it comes down to the overall chocolate assortment, there are a little over 15 truffle and flavor options, which is not as large of an assortment as the other places reviewed. 
Food Quality: 3.5/7 
Chokolatta's truffles were neither tasty nor awful, and they did not leave lasting impressions. Chokolatta's dark chocolate is the most mediocre piece of candy imaginable. While its creamy filling and a nice sugary taste is not disgusting in the slightest, it is incredibly mild for dark chocolate candy. In fact, it is barely distinguishable from milk chocolate until the aftertaste kicks in. Similar to the dark chocolate truffle, the milk chocolate truffle has a creamy, delicious and semi-sweet flavor that is seemingly enjoyable. Less than two minutes later, the flavor fades and a wave of sugar is overwhelming to the tastebuds, leaving a gag-worthy sugar coating in one's mouth. 
andSons Chocolatier: 6.5/10
$$
Creativity: ⅔
Filled with colorful, uniquely shaped and flavored chocolates, andSons has several varieties of chocolate to offer. The sleek, classic, well-lit  ambiance isn't particularly special, but the variety of flavor combinations like passion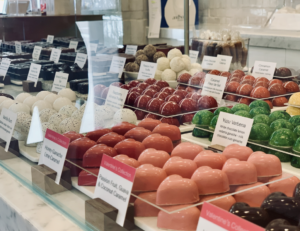 fruit, guava and coconut caramel certainly are out of ordinary. andSons nails the color and presentation aspect of chocolate truffles.

Food quality: 4.5/7
andSons' milk chocolate truffle, similar to its dark chocolate counterpart, was a quintessential chocolate. The truffle was sweet and creamy, but the flavors were definitely not aweing. The taste was similar to a Hershey's Chocolate in truffle form in that it was enjoyable to eat, but the chocolate is generic and has no particularly pleasant flavors. The dark chocolate truffle was soft, decadent and not too sugary, allowing for the quality of the chocolate to be perfectly decent. Even so, there is nothing particularly memorable or unique about the chocolates from andSons.
Edelweiss Chocolate : 9/10
$$
Creativity: 3/3 
Edelweiss has every possible option that a chocolate store could have. It has options of both dark and milk chocolate, with many white chocolates as well. Not only is the shop filled with different types of chocolate, but it also has an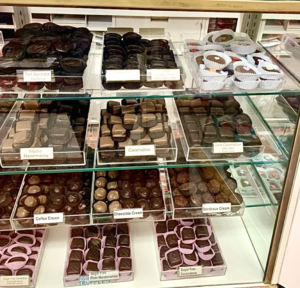 extremely wide selection of different chocolate toppings. From chocolate-covered fruit to chocolate covered Oreos, practically any sweet treat is offered in the form of chocolate at the shop. 
Food quality:  6/7
Both the milk and dark chocolate truffles had the same delicious center, but with different shells to balance them out. The milk chocolate truffle from Edelweiss has a dark chocolate center that balances the candy out wonderfully. While the inside is rich and decadent, the milk chocolate shell is sweet and creamy, which makes for a near-perfect combination. However, the truffle does not have the best texture, as its center is more solidified than a perfect truffle. Sharing the same decadent and nutty center as the milk chocolate truffle, the dark chocolate truffle was delicious. The truffle leaves a lasting impression with a bittersweet and a relatively hard exterior that melts in your mouth.
Teuscher : 9.5/10
$$$
Creativity: 2.5/3
In terms of selection, the Teuscher option list is quite extensive. The shop contains different types of fruity chocolates, truffles and nutty candies, all of which are available in both milk and dark chocolate. In addition, it had some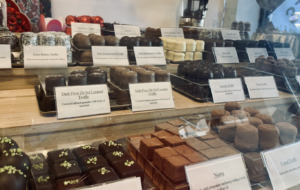 original options, like the zebra chocolates and champagne truffle. However, the list of chocolate it lacked a large selection of white chocolate candies. 
Food quality: 7/7
The dark chocolate truffle at Teuscher's hits all the right notes. From its perfectly creamy and light texture to its strong flavors, there is absolutely no flaw to the candy. Unlike many dark chocolate truffles, the chocolate is neither overwhelmingly rich nor mild and excessively sweet. Instead, it is the perfect balance between cocoa and sugar. The milk chocolate truffle dissolves on the tongue with its incredibly creamy center and soft and sweet exterior. Near perfect milk chocolate in texture, the truffle is ideal for a true chocolate connoisseur.

Choosing the perfect box of chocolates for a loved one is not an impossible task but it is by no means easy. Whether the recipient is milk or dark chocolate lover, there are a variety of options to choose from for all different price ranges.