Top reads to get anyone into the autumn mood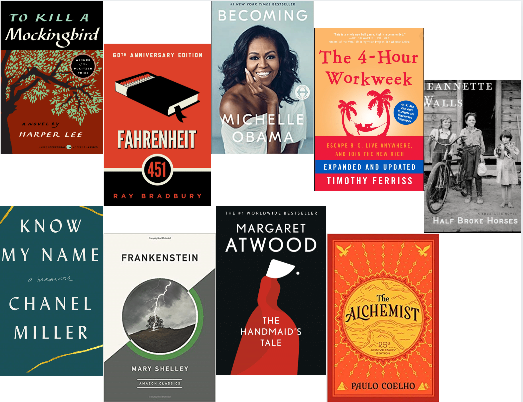 Leia Gluckman staff writer
Autumn was supposed to start in late September, but Los Angeles clearly doesn't understand what cold weather is. While the climate outside might not scream fall, books can definitely help students and teachers get into the autumn-mood.
Whether you're looking for something empowering or simply want to cozy-up with a good read, below is a list of great options for anyone.
For inspiration and motivation
Michelle Obama, Becoming
Obama's book explores her personal journey from childhood on the South-side of Chicago, to being a mother, to living in the White House and pushing her public health agenda. Obama has become one of the most iconic women of the century, fueling and instilling strength in women across the globe, her book outlines how she was able to accomplish so much throughout her life and in the White House.
Tim Ferriss, The Four Hour Workweek
Ferriss' novel about how to maximize one's time and be most productive is not only a message for people in the workforce, but also a useful and relevant book for students yearning to find a balance between their academic and social lives. The book provides guidance for aspiring professionals in any field and gives readers an insight into the economic proponents of their futures.
Chanel Miller, Know My Name
Miller's book stands as an honest and brutal representation of the struggle that many have faced in joining the #MeToo movement. Her book sheds light on the voices that have been silenced or weakened. Miller's book is a beautifully written personal account of a horrendous occurrence. The insight that she gives surrounding this challenge is one unlike any person could articulate.
For a rainy day
Harper Lee, To Kill a Mockingbird
Lee's novel is a timeless classic that takes place during the Great Depression. While many students found this novel on their list of school reads, reading it outside of the school year makes it far more enjoyable. The combination of Scout's, the feisty and adventurous main character, curiosity and sense of self-confidence makes her character truly unique and refreshing to read about.
Jeannette Walls, Half Broke Horses: A True-Life Novel
Walls' book follows the life of her grandmother, Lily Casey Smith, as she is raised on a horse farm and faces a myriad of prejudices. The obstacles she encountered helped shape the powerful and vocal woman she ultimately became. Wall's book resonates as tale of hardships and self-discovery, the perfect read to couple with a warm drink.
Paulo Coelho, The Alchemist
Coelho's novel about the importance of following one's heart puts a unique spin on a common theme by tying it back to Egyptian pyramids. Santiago, a shepherd boy, turns to fortune tellers and prophetic dreams, to find his purpose. Coelho's novel is one of a layered and complex journey to kick off any adventure on which the reader wishes to embark.
Something spooky
Margaret Atwood, The Handmaid's Tale
Atwood's book isn't conventionally spooky, but it is daunting given today's political climate. The dystopian world in which the handmaids, wives, commanders, and other characters live is becoming more realistic by the day. For a thought-provoking and ominous read, The Handmaid's Tale checks all the boxes.
Mary Shelley, Frankenstein
Shelley's novel is an iconic read for the 'spooky season.' Also a movie, Frankenstein tells the story of Victor, a young boy whose creation comes to life as a monster. His monster, Frankenstein, brings chaos to the town and torments the people while Victor struggles to cope with family trauma.
Ray Bradbury, Fahrenheit 451
Bradbury's book tells the story of a dystopia where books are burned in order to prevent the spread of ideas that may pose a conflict to the standing regime. The plot follows a fireman who questions these tactics and as a result, is forced into extreme suffering. Providing an example of what limitations on education can do, Bradbury's book takes on a new, intellectual level of spookiness.