AcaDeca is not just for A-students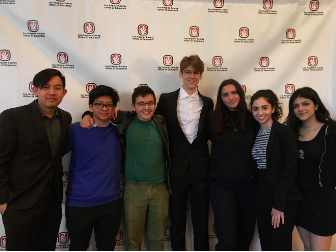 Defne Onal staff writer
There has been a long-standing misconception that AcaDeca is only for students with higher GPAs. This information is false because AcaDeca needs students from all GPAs to properly compete. 
"I think the biggest misconception that myself and many others probably had is that it's only for super smart people, like the child prodigy type. That's totally not the case, it's literally for everyone," junior Georgia Evensen said. 
There is a GPA range that AcaDeca needs to adhere to, to be able to compete in regionals and competitions. 
"You need to have three students from each GPA range, there's three ranges. It's basically like A-level, B-level, and C-level students that you need. High range is 4.8 and above, median range is 3.8 and above , and the lowest range is 3.1 and below," Evensen said. 
For a long time, there has been a misconception that Acadeca only accepts
members of a high GPA. "The biggest misconception I can think of is that people think that you have to have super high grades and be a perfect student. We actually need people with lower GPAs to compete," junior Clement Murphy said. AcaDeca also tends to not agree with society or school's definition of intelligence. 
"Our team is set up based on GPA. We need students of every type of GPA, and although school, in some ways, equates GPA with intelligence, our team really does not believe in that," AcaDeca president Aghigh Banitaba says. 
Apart from GPA ranges, AcaDeca allows for students to grow more confident in their studies.
"If a student has GPA or grades that they're really not satisfied with, they may think they're not smart. AcaDeca shows that if you're committed to learning, it can really go a long way. I'm sure there have been lower GPA range students who did really well in the competition,"  junior Clement Murphy said. 
AcaDeca also tries to be inclusive while studying and team bonding exercises. 
"The most important thing that speaks for our inclusivity is the fact that everyone studies and participates in the same group. Although our team is divided into different groups based on GPA, that doesn't mean anything when we're practicing or studying," Banitaba says. 
AcaDeca's regulations are based on the fact that a team's differences help make it stronger. 
"We just learn from each other a lot. We're just a very diverse group of students, so they all have very different learning styles, so we can learn what works best for each of us in terms of study methods, and kind of develop a better understanding of ourselves as students," Evensen said.