MorTorq meeting inspires next generation of robotics
Lolita Gorbacheva, staff writer
Eleanor Bogart-Stuart, staff writer
The MorTorq robotics team met with middle school students to spark interest in the Robotics program at Beverly on Monday.
The team designed this event to give middle school students a sneak peek at high school life and what a higher level Robotics class entails.
"We're trying to mentor the younger kids and teach them how to build their own robots. They have their own competition on the science olympiad team and need some help with that," senior MorTorq member Camila Monchini said.
Many of the middle school students who attended are part of a science olympiad team, similar to Robotics because of its science-based competitions. Some attendees plan on joining the MorTorq team when they get to high school.
"Robotics is very cool and you can do so many things that normal kids wouldn't do, and you get to show off your robot in front of everyone," Horace Mann eighth grader Sam Siminou said.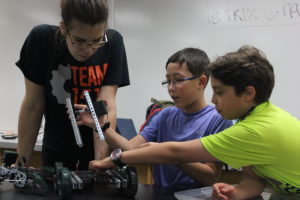 The event featured opportunities for the next generation to test tools and learn how to use high school Robotics equipment.
"It makes your mind think about what you have to do in order to achieve a goal. You think about all the different parts and how everything comes together," Siminou said.
Last year, the MorTorq team traveled to Las Vegas and took home the Regional Chairman's award. They also won two Hardhat awards earlier in the year.
"Our MorTorq team, the whole vision of MorTorq, is to offer opportunities or to spread the voice about Robotics. It's also to show current students, new generations, pathways in engineering, mathematics, science and technology," main manager Maria Santa Cruz said.
If you would like to join Robotics, please email Ms. Santa Cruz at [email protected].