Highlights places 2nd in LAJTA write-off
Four writers representing Highlights competed at the Los Angeles Journalism Teachers Association (LAJTA) regional write-off competition at CSUN on Saturday, Feb. 22. As a team, Beverly placed second* out of eight schools present. University High School and Daniel Pearl Magnet both tied for first.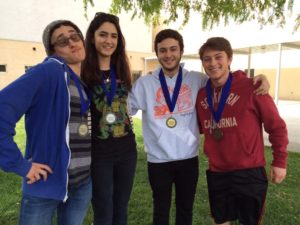 Students who placed in the top eight in their category will advance to the state write-off in North Long Beach on March 15. Senior Robert Katz placed second in Opinion, senior Dani Klemes placed second in Feature, junior Jackson Prince placed third in Sports and senior Arman Zadeh placed first in Sports.  All four members from Highlights will advance to the state event where they will compete with other student-journalists from southern California, spanning from San Diego to Santa Barbara.
*Originally we reported that Beverly placed third. However, according to an email received from one of the organizers on Monday, Feb. 24, original scores for the Sweepstakes were miscalculated.   Both Daniel Pearl Magnet and University tied with a total of 48 points, Beverly earned 36 points.  Point totals were calculated only using the writing competitions; photography was not a factor.