The Clippers' never-ending misery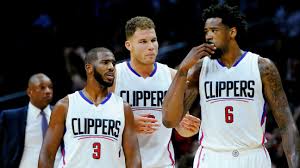 Isaiah Freedman staff writer
This has been the Clippers' life cycle the past five seasons:
Step 1: Begin a season with promise, saying all the right things to the media.
Step 2: Get in a groove and rip off a ton of wins in a row.
Step 3: Key player suffers injury and the team slumps.
Step 4: By playoff time, everyone is back and hopes are reasonably high.
Step 5: Utter devastation.
It's brutal. It's crushing. It's just…plain sad. The Clippers' annual playoff meltdown has become a sight to behold, and since the team resides in L.A., a fiery subject for diehard fans and detractors.
"The Clippers are definitely cursed," Clippers fan freshman Malachi Jones conceded after the team blew a series lead for the fifth consecutive year.
Besides the debilitating playoff collapses, what makes this team so maddening is that they are objectively good! The Clippers boast the NBA's fifth highest winning percentage over the past five years, are constantly a lock to win 50 games and have two of the top players in the league.
When the Clippers fielded their ideal starting lineup of Chris Paul, J.J. Redick, Luc Richard Mbah a Moute, Blake Griffin and DeAndre Jordan during this regular season, they outscored opponents by a whopping 16 points per 100 possessions. However, that same lineup got outscored by seven points per 100 possessions in this year's playoffs, according to NBA.com.
Injuries have chronically plagued this team. Over the past three playoffs, either Paul or Griffin (or both at the same time) has been injured during a series.
Paul, Griffin and Redick are all unrestricted free agents this summer, meaning they can choose to sign for another team next season. If one of the Clippers' two superstars bolts town, any hope left for a possible championship will go down the drain.
The Clippers are well known because of their playoff failures, but also because they whine after almost every call. Referees are humans, and they definitely won't be inclined to give the Clippers the benefit of the doubt when they have been getting screamed and complained at all night. All of the Clippers failures are conveniently (well, inconveniently, for the Clippers) put under the gigantic microscope of the big L.A. market. If some of the nonsense that happens with this team happened in, say, Milwaukee, it would go a little under the radar.
The Clippers also happen to be the only team in the league who had their owner banned for life back in 2014. There is just always a story circulating around this franchise, from the choking to the complaining to the injuries to the inability to draft and develop one player under Doc Rivers.
The team has a couple of unenviable options this summer. They could let all their free agents walk and choose to rebuild, which would mean more losing seasons. Or they could bring everyone back, locking up an aging core that has proven it cannot get over the hump. The Clippers' cap bill would be projected to reach almost $300 million if they retain all their players. That is a staggering amount of money to devote to a group that probably will not win a championship.
Whichever path they choose to forge this summer, it will probably end in heartbreak.