Service Learning donates books to Albion Street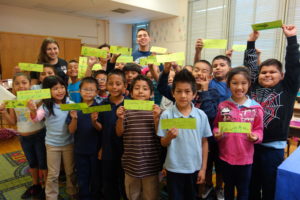 Service Learning and various seniors visited Albion Street School for the second time this school year in order to donate over 1,000 books, instead of toys, to the elementary school's library on Thursday, May 16.
"This is our first time donating books. In years past, we would donate toys because many of the students families could not afford Christmas gifts," Hedvat said.
According to Service Learning adviser Michelle Halimi, they did not change anything; they simply added another component to their relationship with the school.
According to junior Service Learning member Simon Hedvat, the second visit was planned in order to give a larger pool of seniors the chance to give back to the community.
"The application process was basically on a first come, first serve basis. However, because not as many seniors applied, Service Learning as a whole was able to visit the school," Hedvat said.
The process of organizing this included three steps: gathering books, students to visit the school and, giving the books to the children. Service Learning placed boxes in all the English classes to collect books and put notices in the bulletin to recruit students.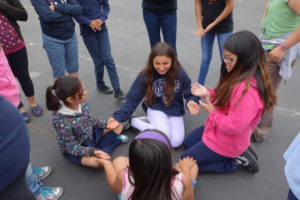 According to senior Service Learning student Gracelyn Koshy, the class wanted to expose the children at Albion Street School to different books and help them develop a passion for reading.
"It was important to do this event because reading and quality education are not always prioritized in these childrens' lives. We felt it was our job to help them realize that reading is a vital part of succeeding in school," Koshy said.
Classes were split into groups where a few Beverly students would read to their group of students for half an hour; the younger kids read from about three books, while the older kids read a few chapters from books such as Harry Potter.
"The day went really smoothly," junior Service Learning student Leora Hakim said. "I think lunchtime was the best part because we got the chance to sit down with them and talk or run around on the playground. When we had to leave the kids got so sad; it really made us appreciative for everything in our lives."
According to Hedvat, Service Learning was able to both aid the Albion Street community, as well as help students realize the importance of a good education.
"While I was working with a class of second graders, I began a conversation with the teacher," Hedvat said. "She told me how much she really appreciated our help because Albion Street did not have a library for half the year. When she told me this, it really made me realize how much of an impact we were making," Hedvat said.
According Halimi their plan is to continue visiting the school twice a year; one in the winter and once in the spring. In addition, in the spring they will be implementing some form of reading or career type day for the student at Albion Street School.