Keith Rust's summer in Tanzania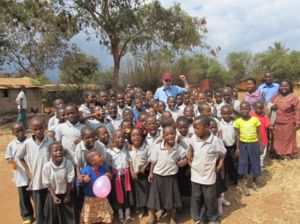 Glory Oh, Cub-writer
Teachers usually occupy their summer vacations by going on trips with their family and friends, working at summer school or taking a well-deserved break. Keith Rust decided to devote a month of his 2011 summer vacation to giving back to the world.
From July 13 to early August of 2011, Rust went to Tanzania, Africa for a mission trip with his friend's non-profit organization called
Water is Life Inc.
Water is Life Inc. is an organization that "gives hope through water resources, health care, education, and training leaders for the future."
Rust has previously participated in two mission trips to Moldova and two mission trips to Hungary and decided to go to Africa to serve God. In Tanzania, he taught high school students art and taught children the bible in Sunday school.
While in Tanzania, Rust was exposed to the cultural differences between the United States and Africa.
Rust said, "There are too many differences, but a few are they had to get up early everyday to get water and wood and went to the river for daily essentials unlike us who have faucets."
Rust was amazed by how much respect the students gave him and their eagerness and excitement to learn. He was also amazed by how much they valued education.
The overall experience was humbling for him as he became aware of the differences. He was also glad to be able to share his knowledge to the people there.
Rust explained, "I had a greater appreciation for the blessings we have here."
His most memorable experience from Tanzania was when he went to an elementary school for orphans where some of the children had AIDS or their parents died of AIDS. It was a heart-warming experience to see the big smiles on their faces when they saw him and his group.
Although his trip to Tanzania has come to an end, he was greatly affected by the trip and plans to return next summer.