Ben Shofet, staff writer  One week after the performances of "Romeo and Juliet," Theatre Arts Workshop Director Dr. Brad Vincent announced and casted the fall play, 'Noises Off.'
"It's the funniest play I've ever seen," he said. "I expect this play to be an even bigger success than 'Romeo and Juliet.' It's a comedy; it's a modern play."
The modern farce was written by Michael Frayn in 1982 and tells the story of a dysfunctional theatre company struggling to put on a performance of a different, made-up play. While Vincent plans to change some details, the play will retain its original spirit.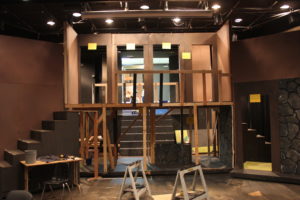 "Well, it's a challenge for the actors because instead of playing one person, they are playing two people, basically. So they're playing the actor within the play and their playing the part that the actor is playing. So in essence, you got two characters going off, and that's one of the reasons that I was excited about doing this play is because its very hard to do. It's very hard to play one character and stay to be believable and its harder to play two characters. That's basically what they do. It's not an easy play; its a very hard play," Vincent said.
The actors, after stripping off their purple tights, were thrown right back into action, being auditioned and casted on the Monday following the closing of "Romeo and Juliet".
"They work incredibly hard and are very excited; there's been no rest but they keep on going," Vincent said.
Senior Sydney Fiore, one of the three actresses who plays Belinda/Flavia in "Noises Off," is "extremely excited."
"I know the show is hysterical and everybody else should be excited to come watch it. I have a lot of confidence that we'll do an amazing job," Fiore said.
"Noises Off" will be the class's second production of the year. Vincent plans on producing three total plays this year, including the a spring musical, instead of the single fall play and spring musical of previous years.
"Noises Off" will have a total of three previews and three paid performances, an added two performances from his last production, "Romeo and Juliet". The three unpaid previews will be on Nov. 10-12 and the paid performances will be on Nov. 13-15 at the Salter Family Theatre. Tickets will be priced at $5 with an ASB card, $10 without an ASB card, $15 for adults and $20 for VIP seating.
Story continues below advertisement