Veronica pahomova cartoonist
Three minutes left of the school year. Roel Hinojosa starts to anxiously shake his leg, ready to leave and explore outside of his classroom. Two more minutes. Hinojosa starts tapping his fingernails on his teacher's desk. One minute. He locks his eyes with the clock. Three seconds. Two seconds. One. With a passport in one hand and a camera in the other, he tears off his work attire and reveals the floral top and shorts, ready to grab his luggage and venture off into the world.
Since Hinojosa discovered his early fascination with maps, he has been a successive world traveler. He's greeted new location almost every school break- whether it being winter, spring or summer. And whether he heads to Europe, Asia or Africa, there's always a similar aspect that ties all of his trips together: the thirst for knowledge and experience.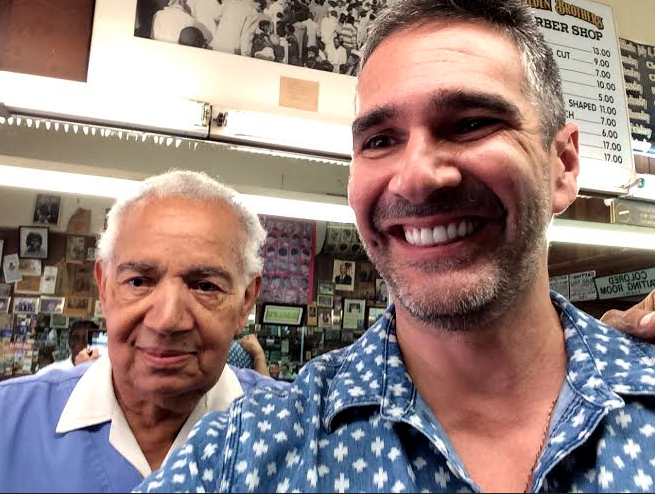 As a student, he began his college studies in a Catholic school that offered a program that allowed him to study in Rome. With no intention of returning to his town in Texas, Hinojosa then transferred to NYU and later attended graduate school at Harvard.
Hinojosa is a teacher who refuses to keep within the confinement of his classroom, and even the confinement of his state. Not only does he manage to expand his perspective and incorporate it in his daily life, Hinojosa also expands the authenticity and entertainment of his classroom.
"I teach Comparative Government, so having direct experience with the countries we're studying will help in that class," Hinojosa said.
He has been to England, Russia, West Africa and China on numerous occasions.
Traveling there has given him a better sense of what he's teaching and adds spice in daily lectures.
"When China was transitioning from communism to capitalism, I can share some anecdotal evidence, some things that happened to me. I can share it with students to make it seem more real," Hinojosa said.
He has also found his traveling helps while teaching government. Traveling extensively to the deep south last year, Hinojosa managed to better understand the mindsets of the "western folk".
"I was able to see first hand the kind of racial discrimination, religious fundamentalism, the kind of homophobia that really does seem to be really problematic in the south, and it's affecting or national politics," Hinojosa said. "So I'm able to directly refer to those things."
He can even state from personal experience that learning and understanding class material is easier with hands-on knowledge.
"Travel makes more compassionate people. It makes other people, other religions, other cultures, other races, more real. Sometimes for many people who never travel, they're just abstractions," Hinojosa said. "But when you actually travel and meet other people, you realize that they are human, and they have similar aspirations and similar concerns and you're able to sympathize with them more easily and you can have compassion for them on a real level."
This year, he plans on going alone to Vienna over spring break. Realizing how important Vienna is in western civilization, Hinojosa plans to stick with his spontaneous travel idea.
"Travel is experience and I think we should try to have as many experiences as possible. It doesn't necessarily mean to travel to other countries. You can travel within the country. You can travel within LA!" Hinojosa said.
He states that he always wants to travel, though maybe not to exotic, distant locations.  Hinojosa is considering that, as he gets older, road trips will soon be his specialty.
"Travel expands our horizons. It gives more data with which to make comparisons and with which to make conclusions," Hinojosa said. "So it makes our lives bigger, it makes our brains bigger, it makes our heart bigger!"

Story continues below advertisement