Arctic Monkeys' new album gets 'Four Out of Five' stars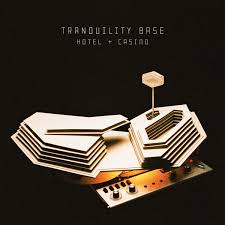 Catherine Gagulashvili culture editor
Alex Turner and his smooth chocolate-like voice are back.
It's been five years since Arctic Monkeys fans received new content. We have waited, we have replayed AM and Favourite Worst Nightmare again and again. The five-year-in-the-works album, Tranquility Base Hotel & Casino, finally released on May 11, giving fans a sixth incredible album to play on repeat.
The best song, by far, on the album, is their single "Four Out of Five," which captures the true essence of the Arctic Monkeys. The song strays from the galactic feel of the album, portraying Turner as an owner of a hotel, which is deemed as a four-star hotel. The song mirrors the Eagles' "Hotel California." Both songs give off a lazy, relaxed vibe: Turner sings "take it easy for a little while, come and stay with us." The guitar riffs of this song are reminiscent of their 2006 song "I Bet You Look Good on the Dancefloor," another classic Arctic Monkeys' trait. The fact that the band is able to mirror the style of their previous works is truly a testament to their musical integrity and their dedication to their fan base.
Songs like "She Looks Like Fun" and "Golden Trunks" are quintessential Arctic Monkeys songs, as they include the standard intense guitar playing and lyrics about the troubles of love and life. Yet, songs like "Batphone" and "The World's First Ever Monster Truck Front Flip" sound strangely foreign to a fan's ear. While Turner's voice is identifiable, the instrumentals now heavily depend on the piano, an instrument not primarily played in previous albums.
The Arctic Monkeys' music used to focus on themes such as youth life and making every day count as if it was your last. Thirty-two-year-old Turner seems to have hit a crisis, one that cannot be constituted as a quarter-life crisis or a midlife crisis. But nonetheless, his lyrical focus has shifted from being the 20-something-year-old feeling empty and alone amidst a drunken crowd to being the 32-year-old acting as if he is still the existentially curious boy from Sheffield. In short, he is trying too hard to appease his fan base, while at the same time attempting to move on to create age-appropriate music.
The Arctic Monkeys are a talented band, one that will always be able to please their fan base simply by releasing music. Aside from the slight stylistic changes and the maturing of the band, which is evident in the work they have released, Tranquility encaptures the essence of the Arctic Monkeys. So, from the bottom of our hearts, thank you, even though you waited five years to do it, for releasing a new album. It truly is "four stars out of five, and that's unheard of."
"Tranquility Base Hotel & Casino" is available to stream on Spotify and YouTube Red, as well as being available for purchase on iTunes/Apple Music.