AcaDeca adjusts study methods for COVID-19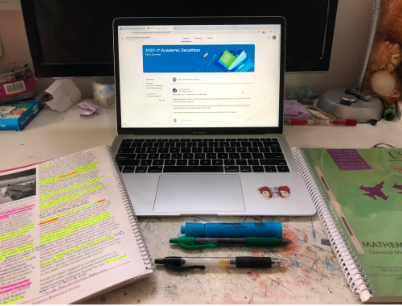 Defne Önal staff writer
Despite the pandemic, Academic Decathlon( AcaDeca) has been preparing for regionals since the start of summer. AcaDeca's two presidents, junior Aghigh Banitaba and senior Nick Walker, implemented a strict meeting schedule that keeps members on track with their studies.  
The members of the AcaDeca team study "essentially everything" related to the topic of the Cold War, according to Walker, including art, economics, literature and music. During the season, AcaDeca members immerse themselves in the required theme. 
"We incorporate a variety of discussion-based learning. This way people have to engage and it's not just them staring at the screen," Banitaba said. 
Banitaba emphasizes the importance of "study groups" and its vitality as a learning method for the success of students. When each group member reads, and summarizes the club material, other group members gain the capacity to comprehend the study material at a more proficient level. As a result of the pandemic, study groups have decreased. 
"One thing I do is while taking notes on the guides, I write down details that I feel like I won't remember," junior and AcaDeca member Georgia Evensen said. "By writing it down, it sticks in my memory." 
Evensen finds annotation to be an important tool to use while interacting with a passage. Annotation emphasizes a deeper understanding of a text and encourages students to read with a purpose in mind. 
"I personally like to reread the guide and highlight the text. I also like to take notes to correlate with the passage," AcaDeca member sophomore Sima Arslan said. 
Rereading the passage seems to be a commonality for most AcaDeca members. 
"I typically do my first read through taking pretty comprehensive notes. After, I will probably come back, read section by section, test myself and make sure I know everything," Walker said. 
Testing oneself is a learning process that AcaDeca members prize themselves on, including utilizing online websites such as Quizlet. 
"I'm an auditory learner. So sometimes I would record my voice reading the guide, and then listen to it later," Banitaba says. "One thing that students can do is there are apps that basically read the PDF for you."  
Figuring out what kind of learning method is most effective for each individual can be quite beneficial. Banitaba ensures her success by correlating her studying to the learning style that she knows she's comfortable with. 
"Although, this year we faced the strangest of circumstances, I feel truly excited for the competition, " Banitaba said.