New teacher seeks to inspire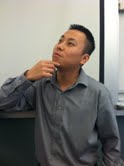 Cleo Egnal, cub writer
Johnny Nguyen
's environmental science and physics classes were without a teacher for weeks before he arrived.  When he came to Beverly, he brought new methods and a passion for teaching.  He not only uses drawings and videos to illuminate his lessons, but also attends seminars outside of school to inspire new teaching methods.
Nguyen (pronounced "win") has taught many subjects including geometry, physics and environmental science.  This is his first year teaching in a traditional high school setting, and he is teaching at the high school level for a reason.
"I wanted to make a difference," Nguyen said.
He believes that high school is the "turning point" for students, that this is the transition from childhood to adulthood.  He was inspired to become a teacher by his high school physics teacher.
Nguyen says that his favorite part of being a teacher is truly getting through to kids.
"When the student has that 'aha' moment," he explained.  "That is my favorite part about teaching."
Outside of school, Nguyen enjoys playing paintball in tournaments.  He is currently offering an
enrichment
for students interested in paintball where he teaches them the basics of the game.
"I've always wanted to try it," he said.  It isn't easy to have time to play paintball, though, with his workload.  He says that the key ways to find time are "to plan ahead and set your mind to it."
Being a first year teacher can present challenges, especially in a high school setting.  Students sometimes have trouble becoming accustomed to the teacher's style.  However, junior Nate Gilardi doesn't see this as a big problem.
"It's just a matter of adjustment and adapting to the new teacher, his policies, rules," Gilardi said.
Some of Nguyen's policies include a weekly participation grade, which encourages students to ask questions and pay attention in class.  Although Nguyen began teaching at a sensitive time, as the previous teacher had left halfway into the first semester, students seem to be adjusting well.
"The classroom atmosphere has generally been the same," Gilardi said.
Nguyen believes that in order to be successful as a student, one must set short term and long-term goals, and he encourages his students to do this.  Nguyen may be a new teacher, but his enthusiasm for teaching and inspiring students is very strong.