KBEV: An Insider's Take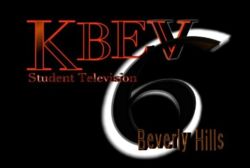 Audrey James-Anenih, cub writer
It would be quite near impossible to find a student that would be able to truthfully say that they wake up to the KBEV News at six o'clock in the morning. But with the new shows, segments and features recently airing, the KBEV cast and crew plan on drawing in more student viewers.
The cast and crew of KBEV have been able to make big changes in their program that are visible to everyone that watches the channel. The recently added shows and segments have made their channel six broadcast more appealing to their teenage audience.
With the tremendous amount of new students this year, it's made Einbinder's job just slightly more difficult, with the extensive supply of new talent and skill. Other new additions to the KBEV channel include "Shoush 2 Nite" with senior Ryan Shoushani and "Parham Talks Girls" with Parham Senehipour.
Shoushani has had the opportunity to feature many prominent international figures on his show, from Larry King, the star of "Larry King Live," CNN's longest-running interview program. As well as locally prominent figures like Dov Charney, the founder and CEO of American Apparel.
"It brings the messages and life stories of individuals of cultural importance to both high school students and adults in the Beverly Hills community and beyond," Shoushani said about Shoush 2 Nite.
"Parham Talks Girls"  has been privileged enough to release 75 episodes, and counting! It has been continuously successful on the KBEV channel.
"I have a show where I basically interview girls all day long, and people enjoy watching it I guess, because it has 75 episodes," says Senehipour about the success of his show.
The cast of KBEV news completed a field report on Junior/Senior Night on Thursday, Feb. 21, which will be broadcast on Thursday. Einbinder's position in the KBEV department is a keystone in their cast and crew.
"As for my position, I'm the interviewer on the news segment on KBEV and on the show my job is to find out who the influential people are in the school at any given time, and ask them questions to convey who they are and what they do in the school and community etc," Einbinder said to make clear of her status.
Lately, many would have noticed the flyers all over campus, featuring quotes on cleanliness in school from, "Keep calm and throw your trash away," "Stay classy not trashy," and "Pick it up!" Einbinder has had the opportunity to interview the mastermind of the campus cleanliness campaign.
"Jeramiah Williams for the campus cleanliness campaign is very recent! It's not out on KBEV6 yet but we're getting it up there," said Einbinder.
The weekly KBEV news features new and returning cast and crew members this year. It is broadcasting all varying types of news features, from the latest on new technology in the library, to sports news like the varsity boys basketball team's road to CIF playoffs, and feature stories on teachers and their extraordinary lives outside of the classroom.
With so many upcoming activities, like the school-wide Color Wars, the KBEV news team will work to capture the most interesting aspects of those events.
"Our KBEV team is covering the current events like Junior/Senior Night, and are preparing to cover the upcoming events like Color Wars, on its own," Einbinder said, to speak of what is on the cast's calendar.
KBEV as a whole  has made many adjustments, and has added many new features, shows and segments, to target the interest of their goal audience. You can catch any of these shows, from Shoush 2 Nite, to the Norman News on channel 6 on time warner cable.