Drama rehearses for spring musical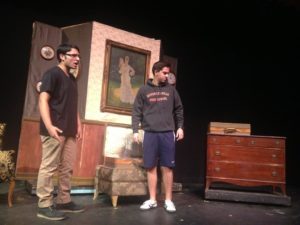 Max Stahl, staff writer
The cast and crew of "
The Secret Garden
," this year's spring musical, have recently increased the intensity of their rehearsals as they near their first
performance
,
 a matinee on March 19 at 2 p.m."The Secret Garden," an adaptation of the 1911
novel
by Frances Hodgson Burnett, tells the story of Mary Lennox, a rich, spoiled British girl who goes to live with her uncle Archibald Craven following the death of her parents. As Mary explores her uncle's expansive manor, she discovers the titular garden, which Craven's wife had tended before the fateful accident that took her life. Throughout the play, Lennox strives to discover the mysteries of the garden and ultimately alters the other characters' attitudes about society.
Rehearsals began when students returned from winter break. In addition to standard acting, dance and vocal training, the cast members have received instruction from a dialect coach regarding the English accent they will employ during their performance. Lately, the cast and crew have stayed at school until around 7 p.m. to work on the musical."[Rehearsals] have been pretty grueling," junior Anthony Lofaso, who plays Archibald Craven, commented. "It's been from 3 to 7 o'clock almost every night, and we [in past shows] haven't hit 7 o'clock until maybe two weeks before, but we hit 7 o'clock like a month before the show opens, and it's a lot; the tech rehearsals are killer."Lofaso indicated that the actors have worked closely with the tech crew in order to work out problems arising from rapid scene changes and other technological challenges."The show is probably the most difficult that I've ever done," senior Leah Weissbuch, who plays Mary Lennox, said. "The show is so challenging and also very time consuming, but completely worth it."Cast members noted that this performance of "The Secret Garden" will feature some alterations to the original story. According to Lofaso, the musical tells "a story of change" that emphasizes acceptance of death and of love."[The show will be] fabulous, beautiful," Weissbuch said. "It's a gorgeous show, and I feel very lucky to be part of such a talented cast."
The musical runs from March 21-23 at 7:30 p.m., with a matinee performance on the March 19 at 2 p.m. Students can purchase tickets for $10 at the door or at
shopbhhs.com
.