Student places third in California Job Demo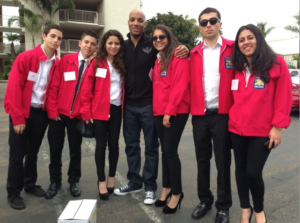 Brenda Mehdian, staff writer
Shivani Patel won third place in the California Job Demo Competition in San Diego, CA on Saturday, April 7.
Each competitor was given five to seven minutes to demonstrate a specific skill and explain the skill to a panel of judges. In the time given, Patel whipped up raita; an Indian yogurt consisting of cucumber, cilantro, green onions, coriander and cumin.
"Raitu is something that I make quite often so I did not need to do any intense preparations. I practiced once at school, but other than that I was pretty comfortable making this dish because I was so familiar with it," Patel said.
According to Patel, her biggest competition was herself.
"I am very meticulous when it comes to my cooking so I am always very critical of the food that I make. I am always looking for ways in which I can improve my cooking skills and techniques," Patel said.
Patel's grandmother inspired her to prepare the dish.
"My grandma has always been my inspiration when it comes to cooking and has taught me everything I know about cooking. My philosophy throughout the competition was just to make something that I had a personal interest in, and it payed off for me in the end," Patel said.
Patel began cooking around the age of seven when her grandmother would give Patel vegetables to shred or peel in order to keep her out of trouble.
Patel was very happy with her performance in the competition.
"Honestly, there is nothing that I would change in my performance. I was confident and I went in there planning on doing something that I love and having fun," Patel said.
Patel took the Introduction to Culinary Arts as a freshman and is now in the advanced class.
"Shivani has a strong passion for this industry and if she continues to work hard she will have a very bright future," Culinary Arts teacher Chef Darrel Smith said.
Patel plans to attend culinary school in New York and eventually open up her own restaurant. She also hopes to travel to third world countries and volunteer to cook food for children and adults.