Teens Curing Cancer raises $5000 for research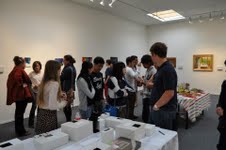 Teens Curing Cancer (TCC) raised $5,000 at the First Annual Art Against Cancer Gallery Sunday, May 5 at the Manny Silverman Gallery.  Students, staff and community members attended the silent art auction, with all proceeds going to pediatric cancer research. Students and artists like Guy Long contributed their art pieces to the auction.
"The event substantially exceeded all of TCC's expectations," President Yaniv Sadka said. "[The event] could not have gone any better."
In addition to artwork, TCC also auctioned off items such a ride-along with the Beverly Hills Police Department, Dodgers tickets and restaurant gift cards. Revenue was also generated through donations.
"I was amazed at the variety of potential things to buy, both art-wise and miscellaneous," junior Michael Simozar said. "The event felt truly professional and was very impressive for a high school club to accomplish."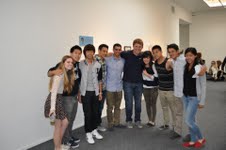 Seafox, a jazz band consisting of Beverly students, also performed at the event. The band is composed of juniors Mason Segal and Wylie Pendarvis, both on guitar and bass, and sophomore Michael Fox on drums.
"As a band, we did not come together until we heard about the event, so [the gallery] was basically what brought the band together," Fox said. "The gallery was very nicely set up. It had a very relaxed, yet professional feel. It was very fun playing there and we are very grateful for the opportunity."
Sadka is now planning for TCC to hold its first "Normans Make a Difference" campaign in the upcoming months.
"The idea is to educate Normans about pediatric cancer while enabling Normans to make a difference," Sadka explained.
Period 6 teachers will be collecting money to raise money for pediatric cancer research, in competition for a Diddy Riese cookie party.