Veronica Pahomova co-editor-in-chief
Social media. What once began as platforms for sending mass messages of funny cat videos have quickly evolved into outlets for political opinions. The election season has inevitably transformed these websites into harsh waves of political articles, Trump memes, social justice warfronts and everything in between. And though posting one's perspective on an issue is more than acceptable, expecting only loving "likes" and courteous comments is just naive. That being said, it is illogical to complain or be shocked if your post is elongated with dissenting comments.
The online disinhibition effect allows those who are politically active to hide behind their computer/phone screen when sharing their political views, and this tends to wash away any fears of face-to-face confrontation. To some, this false feeling of invincibility is joined by an equally false mindset that only those who agree with the post will comment. These misconceptions have lead many to not only disagree with the rebuttals, but also become appalled with the backlash in general. To those callow individuals who are astonished by repercussions of their sharing: Hello, and welcome to the internet.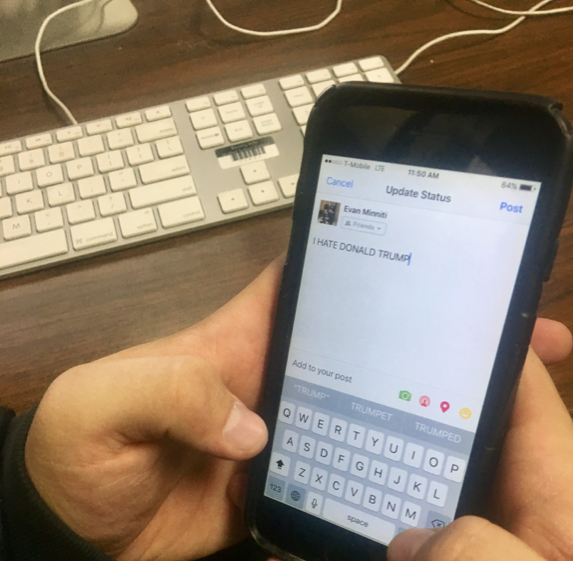 According to a study conducted by the Pew Research Center, 83 percent of social media users say that when they encounter a political post they do not align with, they "usually just ignore the post and move on." However, 15 percent of the respondents state that they "respond to these posts with a comment or post of their own."
When you click the post, tweet or send button, you are facing that 15 percent mentioned above. You are facing the activists who feel the need to stand their ground–and if people in real life have little mercy, then Heaven knows the internet has no such thing. By submitting your statement, you are inviting the world to not only read your opinion, but react to it in whatever way they please (legally speaking, of course). To be offended that others are not respecting your right to the First Amendment–which is one of the most common responses to arguments–is hypocritical.
The best state of mind to be in while formulating a political post is in one which acknowledges not only your own freedom of speech, but also the freedom of speech to those who choose to comment. Accordingly, in Tom's Guide, G.R.A.P.E.S. (guns, religion, abortion, politics, economics and sexuality) is a useful acronym and list of topics to avoid in order to prevent the unintentional debate-starting when posting on social media.
Now, this is not to say that all political posting should just be avoided. In reality, the sharing of opinions should be welcomed and actually encouraged. Not only is this sharing of voices on social media a great way for citizens to engage in relevant public affairs, but a Harvard study has also shown that conveying beliefs poses a neurological, anxiety-releasing reward.
All in all, the internet is an incredible, revolutionary invention that provides the ability to technologically interact with the public and is certainly not to be taken for granted. And much like the internet, the ideology of those browsing through the platforms are not to be taken for granted as well. We as a western, democratic nation have the privilege of freedom of speech that many other countries do not have. Only when we begin allowing others to voice their opinions will we then be truly acknowledging our widespread rights.

Story continues below advertisement