Why the walkout accomplishes nothing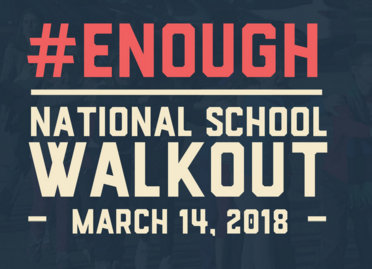 AJ Wolken staff writer
While it is evident that gun law and school safety change is necessary in wake of the recent escalation of school shootings, a walkout is an ineffective way for students to voice their opinions and advocate for change.
One big issue with the walkout was the scheduling. This national movement happens to fall on March 14, our Career Day, which serves as a huge inconvenience to both Ms. Dubin, who has been planning Career Day for months, and to the speakers who are taking time out of their day to educate the students on various careers. And while the schedule has been adjusted to make time for the walkout, administration has made room for th walkout time and attention away from the speakers and the importance of Career Day.
Additionally, because administration has encouraged the protest, the impact of the movement is greatly reduced. Everyone is aware of the walkout, with administration not only encouraging the students to walkout but making time in our schedule specifically for the walkout. Instead of being an act of protest and defiance, the walkout is more of a scheduled event where the majority of students will be standing around for 17 minutes while a few students attempt to voice their political opinions. In essence, that does little but take time away from class time. And while many students are going to utilize the 17 minutes to speak out against gun violence and make political statements, there are also students who see this walkout as nothing more than an opportunity to ditch class. Some students are passionate about this issue and are using this appropriated school time to chant about gun control and politics, there are also students who don't feel as strongly and see this walkout time as an extended passing period or even an opportunity to ditch school altogether.
Most importantly, it is hard to see how a walkout accomplishes anything. A walkout is a way of exercising our right to protest and making a point, but who are we making a point to? Administration? The city? The federal government? Both the city and administration have actively and openly said that they are increasing security measures for our schools, and looking at other ways to make our schools safer. And as for the government, this form of protest has no effect on legislation. The three local representatives, Ted Lieu, Kamala Harris and Dianne Feinstein, are all in support of gun-law reform. It is simply 17 minutes in which students from around the country choose to leave classrooms. It may make for some good Snapchat content, but it doesn't serve as an effective way to promote legislative change. It's not like the government is unaware of the issues with school safety and gun rights. These issues have been the main subjects of debate in government ever since the Parkland shooting, and a walkout doesn't further any arguments.
A walkout is a minimal form of protest that accomplishes nothing, especially if it only lasts for 17 minutes. If students wish to make a political statement and have their voice heard, they are welcome to do that on their own time, but this walkout just seems to be an opportunity for students to not be in class, regardless of their political stance on gun rights or school safety.