Q&A with "The Iran Job" director Till Shauder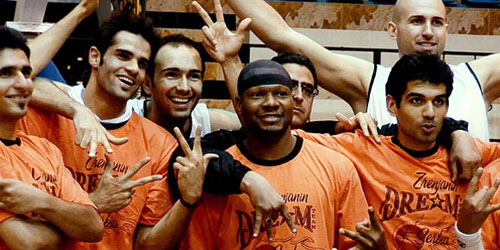 Benjamin Hannani, print spotlight editor
Ever since its sold-out premiere at the Los Angeles Film Festival in June, "The Iran Job" has received positive reviews for its humanity and storytelling. Director Till Schauder and his wife, producer Sara Nodjoumi, follow American professional basketball player Kevin Sheppard as he plays in Shiraz, Iran for the A.S. Shiraz team during the 2008-2009 season. The movie is about much more than sports, though; the season coincides with the 2009 Iranian presidential election and the beginnings of the Green Movement.
The documentary had its theatrical release in Los Angeles on Sept. 28 and is set to screen in New York on Oct. 12.  The film is playing tonight and tomorrow at Laemmle's Music Hall 3 and will continue screening through Thursday, Oct. 11 at Laemmle's Town Center in Encino. You can learn more about the film, watch the trailer, and support its potential nationwide release at its Kickstarter page. 
Information about showtimes and venues can be found at the film's website.
In the transcript of our interview below, Schauder shares what motivated him to document Kevin's story and how he felt when he was detained at the airport for over 24 hours and more.
How did you and your wife first meet Kevin Sheppard?
"Sara had been in touch with many of the scouts and coaches in the Iranian Super League about American players. The scout of A.S. Shiraz contacted her in the fall of 2008 and told her they'd just signed Kevin. We arranged a Skype call with Kevin, and it was love at first sight. He's a terrific character for a movie."
What motivated you to chronicle Kevin's story?
"When we met Kevin, America was high at war in Iraq and Afghanistan and it looked like Iran would be next — as it does again now. We felt that an athlete, particularly one who plays such a quintessentially American sport like basketball, could be a good bridge builder between our two countries. We felt that he could be a kind of tour guide into Iran and its society so that we at least have a chance to understand their people better before we rush into another military engagement. Sports has a way to bring all people together – and now is a good time to try and do that."
What steps were taken to get the film released in Los Angeles and New York?
"We are self-releasing the film. We hired a NYC-based booker who got us engagements in LA and New York. It is a very expensive endeavor, and it is completely self-financed. We therefore rely heavily on grass-roots support. Currently we are running a Kickstarter campaign to help support the release and to hopefully enable us to bring the film to other cities in America. The idea is that regular people and audience members pledge to our campaign at whatever level they can afford. In return they get cool rewards, such as the DVD, or a Blu Ray, Poster, T-shirt etc – and if they have the means, they can purchase a community screening or even co-present the film in a city of their choice for a one-week run. That's how this film has come about so far — through a lot of grass roots support, and we appreciate anyone's support."

In light of a limited budget, how have you been able to market the film?
"Eleven months ago, we did another Kickstarter campaign to raise completion funds. Our goal then was to raise $50K and we exceeded that goal. The trailer of our campaign went viral and created enormous press interest – even though we couldn't afford a publicist at that time. We used some of the money we raised then to hire two exceptional publicists, one on each coast (big shout out to Sylvia Desrochers and Tiffany Wagner of Big Time PR in LA and Emma Griffith in NY). They have done an amazing job of building on the existing press interest generated by our first Kickstarter, and getting the film in front of high-profile press such as the Los Angeles Times, CNN and even TIME Magazine. It also helped that the film world-premiered at the Los Angeles Film Festival [LAFF] in June, which generated more awareness and press interest and paved the way for the current release in LA. LAFF was great for us."
Obviously, Kevin needed some time to adjust to life in Iran. When he kicked a chair after a loss, for example, he ended up all over the news. Similar exhibitions of frustration by athletes in the U.S. often go uncovered (i.e. Kobe Bryant could throw a towel on the floor or kick a chair out of frustration and it won't end up on the news at all). How did you adjust to a restrictive filmmaking environment like Iran?
"I wasn't able to secure a journalist visa, or proper shooting permits. So I had to always fly under the radar. At first it was intimidating, but I quickly adapted and when you're in the midst of shooting you forget your surroundings. One thing I had going for me was that Kevin's club, A.S. Shiraz, was very supportive of the project. They let me shoot anything around the team and the players – and I never had to worry about much when I was around the team. It was different, however, when I was on my own shooting things not directly related to the team. In those instances, e.g. when I was filming Kevin or any of the side characters outside of the arena, I had to be careful and not call too much attention to myself."
The film has already been mentioned as a possible Oscar contender. How does that make you and your wife feel as the director and producer, respectively?
"Nobody is quitting their day job now, but it's certainly flattering to be included in that conversation."
Is there a concern for the safety of Elaheh, Laleh and Hilda, especially as the film aims for a nationwide release?
"That's usually the first question in Q&A's. There is concern given Iran's track record on human rights and women's rights issues. However, so far we're not getting a sense of any repercussions for them (and two of the three have since left the country.) Most of the critique from Iran is reserved for Kevin, for myself, and unfortunately for the A.S. Shiraz club (they've been scolded by officials in Iran for letting me shoot Kevin's experience)."
Viewers of the film know that Kevin was well-received by the Iranian people. What was your experience like with the Iranian people?
"On my first visit to Iran – for a wedding in 2003 – I had a very similar experience as Kevin. I was overwhelmed by the generosity and hospitality of the Iranian people. And I was struck by how much more in common we have than the mainstream news media will let you believe. That's one of the reasons why I wanted to make this film — to show people a side of Iranians that I feel is more accurate than what's presented on the news here."
What was going through your mind when you were detained on your final visit to Iran after word had spread about your film? How did you feel when you were released after 24 hours?
"I think in a situation like that one has the tendency to really focus in and concentrate on the task at hand, which was threefold: 1) let my wife Sara, who is also the producer of the film, know about the situation without causing too much worry for her (she was highly pregnant then), 2)  find a way to get out safely, and 3)  to also complete the film (it was a huge obstacle that I wasn't able to shoot the last game of the season due to the detention). Once I was in the detention room where they told me I'd spend the night, I realized that they actually didn't check any of my belongings, nor did they confiscate my phone. So I called my wife and told her not to worry — if there was reason for concern they wouldn't have let me use my phone, and they would've checked my belongings much more thoroughly. I figured it was a  matter of bureaucracy where the officers at the airport saw a note on their computer that my passport was blocked – no further reasons given — and that I should be sent straight back to where I came from. Had I been someone they really wanted they probably would've gotten a different message on their computers. But to cover my bases I also called the German embassy in Tehran to let them know about my situation (I have dual US- German citizenship and entered as a German citizen – Germany  has diplomatic relations with Iran, unlike the U.S). Finally, to make sure the film is completed, I called a couple of local shooters that I had befriended on my previous trips to Iran – I asked them to shoot that last game for me and anything else they could get, e.g. from Kevin or Zoran [Kevin's Serbian roommate and A.S. Shiraz teammate]  and the [other] teammates. Once I was released and on the plane back, it finally dawned on me that I was very luck to get out."
The film has benefitted from promotion by several high-profile Iranians, including comedian Maz Jobrani. News anchor Christiane Amanpour even co-hosted a fundraiser. How were you able to get their assistance in promoting the film?
"Sara had interviewed Maz for another project several years ago. He has since become a friend – a very funny friend…Certainly the funniest Iranian West of the Mississippi. He's been really amazing getting the word out to the community. Christiane Amanpour was brought into the fold by our executive producer, Abigail Disney. Their kids go to the same school, and she is of course Iranian and has an interest in the country."
Any final thoughts for potential Kickstarter donors who will read this interview?
"Kickstarter is a great way for an audience to directly partake in a film's release. Much of the film was made possible by dedicated people coming together and supporting something they truly believe in.
It's also a great way for an audience to connect directly with the filmmakers – we've made many friendships through the campaign and we hope to make many more going forward.
Most of all we totally appreciate anyone's support for the film. And we hope that we can justify their willingness to back the film with a movie that makes them proud to be a part of."
Look out for Benjamin Hannani's review of "The Iran Job" in the Culture section of the Oct. 12 print edition.