Students dance night away at disco homecoming dance
The long-awaited homecoming dance finally arrived on the tennis courts on Saturday, Sept. 24. After the homecoming spirit week, pep rally, football game, and all of the generally shared excitement about homecoming coming up, ASB ended homecoming week with a disco-themed magical night of fun.
Excitement was already buzzing before the dance even started, while students were waiting in the line to get into the dance. The activities at homecoming were relayed and circulated for weeks before, leaving time for students to get excited for the night.
"I'm stoked for homecoming," sophomore Elisa Bonaparte-Wyse said in line. "I am most looking forward to the arcade games."
Students talked about how excited they were for the dance as they waited. ASB had stirred up a lot of anticipation and enthusiasm for homecoming.
 "I feel great, it's exciting," junior Edward Park said. "I'm here with friends, here to have fun."
Park was not the only one feeling this way. Sophomore Evan Egerman said, "I'm really excited…[I am most looking forward to] the dancing and the activities."
"I feel amazing, you know, I feel very excited," junior Nur Yilmaz said, "[I am most looking forward to] dance and also, you know, just seeing my friends…it's going to be fun." 
The atmosphere of the dance nailed the "Disco" theme, as the rainbow dance floor glowed and the outfits students wore were glimmering. 
Dressed from head to toe in a shimmering silver jumpsuit, sophomore Naomi Strauss said, "I was most looking forward to the theme, I like disco a lot. I love the '70s, so I dressed up as literally a disco ball."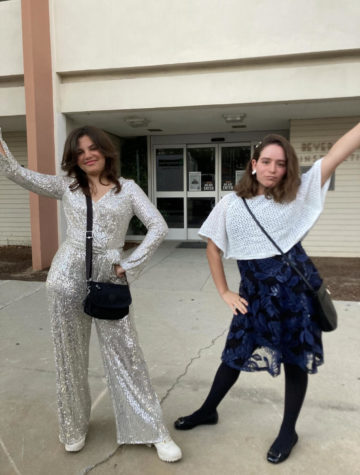 Sophomore Tali Goldkorn shared her thoughts on the dance, saying, "The dance floor looks superb. I love the looks, [there are] many disco-sequined people… [there is] no disco ball, that's kind of disappointing. There are pretty lights, there's foosball…it's been fun so far, I've had fun with my friends."
The dance offered a variety of activities, from arcade games and an outdoor photo booth to a colorful dance floor and Pitbull's DJ blasting music. ASB put a great amount of effort into making this year's homecoming exceptional. If someone got bored with the arcade games, they could hit the dance floor, and then, if they got hungry, they could go get food. The different activities provided our students with a lot of fun — sophomore Evan Egerman said he was "definitely" having fun at homecoming.
"There's been arcade [games], food, dancing, it's great," he said.
Staff and PTSA members chaperoned and helped out with the dance, supervising the outdoor photo booth and food tables and making sure students were safe.
 "At homecoming, I am helping out to ensure that every student here has a wonderful night," English teacher Mr. Aaron Roberts said.
Mr. Roberts did this partly by manning the refreshments tables. The food ranged from pasta with various selections of sauces to an overload of Diddy Riese cookies for dessert, and there were lots of different flavors to choose from.
Goldkorn joked, "The food is exquisite, even though I haven't tasted it yet." 
Lots of tables were set up so people could sit and eat, talk and mingle as they took a break from the dance floor or got excited to jump back in.
"So far, homecoming looks like a smashing success; it looks like everyone's having a great time," Mr. Roberts said. "The dance floor is popping off, the food is great, everybody's in a good mood, it's great."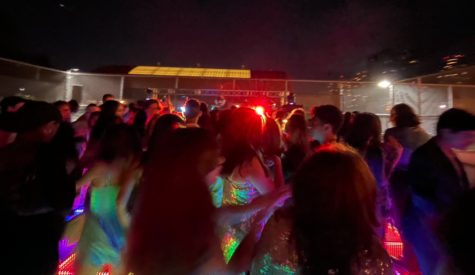 The dance floor surely was "popping off." From '70s songs, like "Dancing Queen" and "Waterloo" by ABBA, to more contemporary music like "Crazy In Love" by Beyoncé, "Party in the USA" by Miley Cyrus, and "What Makes You Beautiful" by One Direction, the fun songs brought students onto the dance floor for hours.
This year's homecoming was definitely the event to have fun at; the roaring dance floor was exemplary of the students' enjoyment. Overall, it was a high school dance students will remember for a long time. Part of the focus of this year's homecoming was our homecoming court winners, as their experiences at this school dance are particularly special ones.
Homecoming Princess senior Amelia Teschner said, "[This dance] has been really fun. I think Mr. Henggeler did a great job setting this all up. It feels really fun [to be homecoming princess], it's nice to share this experience."
"I [also] think that Mr. Henggeler did a great job," Homecoming Prince, senior Michael Larian said. "He really put all his effort that he could possibly put in and it looks great. It feels very cool [to be  homecoming prince]. I'm very glad I could share the experience with Amelia, and it's a lot of fun."
This year's homecoming dance was an absolutely memorable experience, and students had a blast. As the lyrics are in "Dancing Queen" by ABBA, the night was young, the music was high, and everyone was having the time of their life.