Record number of students recognized in 2019 Scholastic Art, Writing Awards
Catherine Gagulashvili copy editor
The results of the 2019 Scholastic Art and Writing Awards were made public on Monday, Feb 4. Of the roughly 40 art submissions from Beverly, there were 29 awards allocated to 26 students. The 29 awards in the art department broke Beverly's record for most awards in a given year.
There were six winners who received a Gold Key Award, which qualifies them to move from competing in the Western Region at Large to the national level. Senior Georgia Minami was one of the six recipients awarded a Gold Key. Her submission, "Black Water," is a photograph of her friend's silhouette as she ran toward the ocean.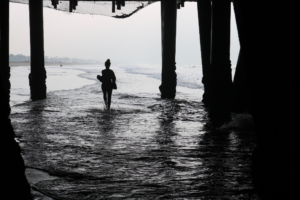 "I was just really excited because I have applied [for] this before a few other times and I don't think I've ever gotten this award," Minami said. "I probably have gotten a Silver Key or an Honorable Mention or something like that, but never this high of a ranking. It shocked me a lot and I'm really happy because I've worked really hard at pictures."
She is excited about the opportunity to compete in a national competition and hopes to demonstrate a myriad of skills.
"I'm really excited. I want to expand and I want to challenge myself [with] what I can do and what I can come up with, with what I can do on Photoshop, how I can use it in different kinds of ways I haven't before," Minami said.
Photography teacher Tim Briggs encourages his Advanced Photography students to apply for the competition because it's a broad and non-limiting contest in which students are free to be as creative as they like.
"[I was] totally thrilled, completely thrilled [when I found out we had broken our record.] The year before last, we actually had 26 [winners], so we had done really well. And then last year, we didn't have quite as many, we had around 10," Briggs said. "But then this year, [we had more winners], and I was so excited."
The Gold Key medalists will be submitting either individual entries or portfolios and the National Medalists will be announced on the Scholastic website on March 13. As the date for Nationals approaches, Minami grows more excited and hopes she will be able to attain the same award she did in the Western Region at Large.
"I honestly didn't think I would get the highest ranking," Minami said. "But I did, and I was really shocked and I'm proud of myself."